rv_samplepacks has launched Beat Scratch, sample pack featuring 660 MB of unique scratched drum loops with funky flavours, perfect for laying over your tracks.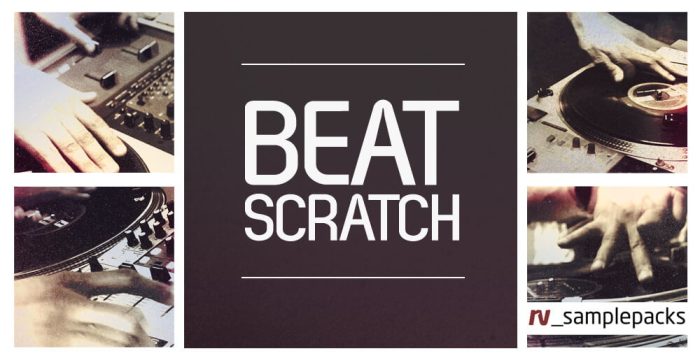 Scratching has many forms and has evolved into an art in itself, its widely considered to be both a musical and a percussive instrument- as no other instrument or machine can duplicate the live authentic sound it gives you. Beat Scratch delivers you the raw, live energy of turntablism direct to your daw – containing some of the classic scratch styles including the crab, flare, transform scratch and more!

With 50 years of combined scratching experience, Djs Dantuf and Illorn The Hip Assassin hope to inspire more people to get down with the beat scratch art form. With the arrival of modern day mixers like Traktor and Serato we had the opportunity to make our own sounds to scratch on control vinyl, we put together tailor made kick, snare, hat and perc hits in different combinations, then using different styles and techniques of scratching created the drum scratch loops, in some cases we used the same methods to create subtle percussion layers.

This exclusive collection of scratched drum loops will give you an opportunity to add new dimensions and flavour to your music. There are a mixture of drum loops which have been divided up into their separate parts, for example kick loops, snare loops and hat loops in both wet and dry formats, giving you an opportunity to mix and match drum elements together.

Inspired by masters of the crossfaders such as the Invisibl Skratch Piklz, Dj Craze, The X Men, Dj Revolution, The Beat Junkies, Cut Chemist and Dj Shadow, this exclusive collection of scratched drum loops will give you a new opportunity to add something different to your music.
Beat Scratch is available from Loopmasters for £14.95 GBP.
More information: rv_samplepacks / Beat Scratch