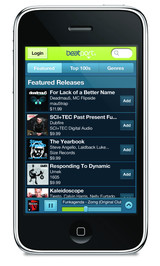 Beatport has announced the release of a new Beatport iPhone application designed for DJs and fans of dance music on the go.
The application delivers seamless integration with the customized features of beatport.com, allowing users to browse, and playback music on the go. The new app is available for free via the iTunes app store.

The new Beatport app allows users to access Beatport's entire catalog of dance music and simultaneously listen to high quality audio previews. Users are able to discover and shop for music directly from their iPhone, eliminating the need to remember the name of "that one song you heard earlier", allowing you to take action when inspiration strikes.
Beatport iPhone App features
Instant access to Beatport's full music catalog.
Beatport's overall and genre-specific Top 100 sales charts.
Artist charts from the most relevant DJs and producers in the world.
Expertly selected releases updated weekly.
High quality track previews through persistent player.
Beatport cart management.
In addition to the iPhone app, Beatport also offers "Beatport Mobile", the newly optimized layout for www.beatport.com when accessed by a mobile device. Beatport Mobile streamlines the use of the Beatport website from any mobile device, making it easy for users to enjoy the same features they are used to accessing from their PC or laptop.
More information: Beatport