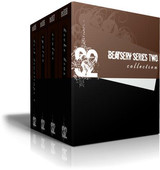 Beatserv has released Beatserv Series Two: Collection, a new bundle of sample libraries.
With over 340 loops, more than 180 original samples, plus 4 NI Battery kits, you get an arsenal of beats, and our best value.

Series 2 was built from the ground up, starting with the best drum microphones and Lavry converters. From there, we compressed, recompressed, synthesized, and tricked-out the samples until they became our own. In Series 2, you'll find everything from solid, fundamental drum hits to the most warped styles.
Beatserv Series Two: Collection features
Dark Downtempo 2 — A continuation of our top seller from Series 1, Dark Downtempo 2 expands upon an already classic approach to the chill out beat. Timed vinyl and tape artifacts mesh with carefully placed ghost notes and all original samples to create yet another essential set.
Syntax — Electronica producer Bounte sliced and sequenced found sounds, field recordings, synth bits, and Beatserv studio samples into these diverse original grooves.
Ocular — "Dope as fuck" was our initial reaction. Constructed by acclaimed producer Andrew Sega (Iris, The Alpha Conspiracy, Stromkern), Ocular features big, hard-hitting, but decidedly intricate beats.
Broke Bias — With a tape and razor blade ethic plus the added perspective of an accomplished drummer, Corey McCafferty's Broke Bias loses the rigidity of programmed beats and explores an entirely unique direction. Part 70's oversaturation, part futurist beats, and 100% original samples.
Each loop in the Collection comes in 24-bit 44kHz wav, REX, and Apple Loops formats. Additional samples are 24-bit wav.
Beatserv Series Two: Collection is available for purchase for $69.99 USD. The sample packs are also available separately, priced at $19.99 USD each.
Visit Beatserv for more information.