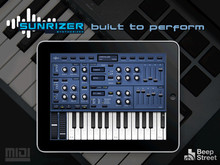 BeepStreet has released version 1.1 of Sunrizer, a virtual synthesizer for iPad.
Sunrizer synth (previously known as 'Horizon synth') is a virtual analog synthesizer that takes the definition of iOs synthesizer to the next level.

Thanks to carefully designed architecture and heavy usage of coprocessor it blurs the boundaries between iOs and hardware synthesizers. Sunrizer was built to perform and works perfectly with any MIDI keyboard or sequencer. A lot of research has been done in order to achieve unheard warmth and clarity.
Changes in Sunrizer v1.1
The application name has been changed due to name conflict with existing VST plugin.
Comb filter instability fixed.
Biquad filters resonance range is correct now.
Support for "Stop all notes" MIDI messages.
Other minor bugs fixed.
Sunrizer for iPad is available to purchase for $4.99 USD.
More information: BeepStreet