Behringer has announced it is shipping the Xenyx CONTROL1USB, a high-end studio control and communication center with USB audio interface.
When it's time to get down to the business of recording or mixing, the last thing you'll want to do is crawl under your desk and run cables. The CONTROL1USB gets you off your knees, putting Master Volume, Talkback, Source selection and Monitor control right at your fingertips.

Now you can choose from up to three sets of active studio monitors and four different stereo input sources to create powerful, custom monitor mixes. Plus the built-in Talkback mic lets you communicate directly with the talent. CONTROL1USB puts you in complete control…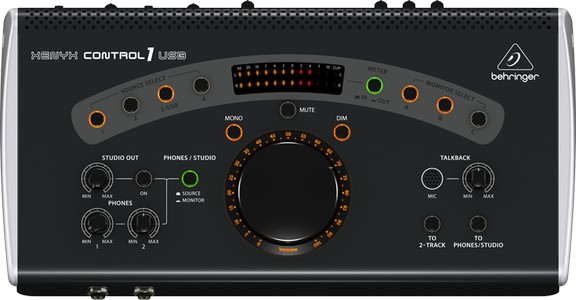 CONTROL1USB features
Premium, ultra-low noise and high headroom studio control and communication center.
All-in-one Master Volume controller, Source selector, Monitor switcher and Talkback box.
4 stereo inputs with independent level controls plus additional Monitor Mix input for your DAW.
3 independent and adjustable Monitor outputs to connect up to 3 sets of studio monitors.
Built-in Talkback microphone with Level control for direct communication with musicians.
Built-in stereo USB Audio Interface, perfect for computer-based studios.
Premium-quality phono preamp for direct turntable connection.
2 powerful headphone amplifiers with separate volume controls.
Big, illuminated Volume knob for precise level adjustments.
Convenient Mono, Mute and Dim functions right at your fingertips.
High-precision dual 12-segment LED meters with input/output source switch.
"Planet Earth" switching power supply for maximum flexibility (100 – 240 V~), noise-free audio, superior transient response plus low power consumption for energy savings.
High-quality components and exceptionally rugged construction ensure long life.
Conceived and designed by BEHRINGER Germany.
The CONTROL1USB will be available to purchase for an estimated street price of $199.99 USD.
More information: Behringer