Behringer has launched its K-2 analog and semi-modular synthesizer, a new take on the MS-20 monophonic synth from Korg.

The K-2 comes with dual VCOs, ring modulator, external signal processor, 16-voice poly chain and Eurorack format.
Although only produced from 1978 to 1983, Korg synthesizers have been favored by numerous world-famous artists including: Aphex Twin; Arcade Fire; the BBC Radiophonic Workshop; Daft Punk; Depeche Mode; A Flock of Seagulls; Gorillaz; Orchestral Manoeuvres in the Dark; Snarky Puppy and a host of others.

An ultra-affordable homage to that iconic synthesizer with all the features of the original and then some, the K-2 lets you conjure up virtually any sound with incredible finesse and ease.

With its pure analog signal path, dual authentic VCOs with 4 selectable waveforms each, plus extremely flexible VCF and VCA filters, the K-2 is sure to become your favorite keyboard. Owning the K-2 is like having your own personal time machine, enabling you to embrace the past – or make your imprint on the future!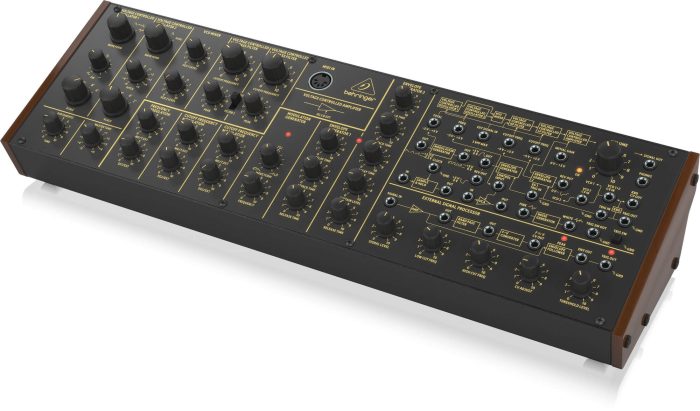 K-2 features
Amazing analog synthesizer with dual VCO design allows for insanely fat music creation.
Authentic reproduction of original circuitry with matched transistors and JFETs.
Pure analog signal path based on authentic VCO, VCF and VCA designs.
Semi-modular architecture with default routings requires no patching for immediate performance.
First and second generation filter design (high pass/low pass with peak/resonance).
4 variable oscillator shapes with variable pulse widths and ring modulation for ultimate sounds.
Dedicated and fully analog triangle/square wave LFO.
2 analog Envelope Generators for modulation of VCF and VCA.
16-voice Poly Chain allows combining multiple synthesizers for up to 16 voice polyphony.
Complete Eurorack solution — main module can be transferred to a standard Eurorack Case.
36 controls give you direct and real-time access to all important parameters.
External audio input for processing external sound sources.
Comprehensive USB/MIDI implementation with MIDI channel and Voice Priority selection.
3-Year Warranty Program.
Designed and engineered in the U.K.
The K-2 is now available from selected distributors.
More information: Behringer