Best Service has announced the release of a new instrument library by Eduardo Tarilonte. Ancient ERA Persia offers a collection of sounds from forgotten places of the Middle East.
The Engine player powered library allows you to create your own melodies with 28 fully playable instruments, deep sampled, with true legato and glissandi, different dynamics and lots of articulations.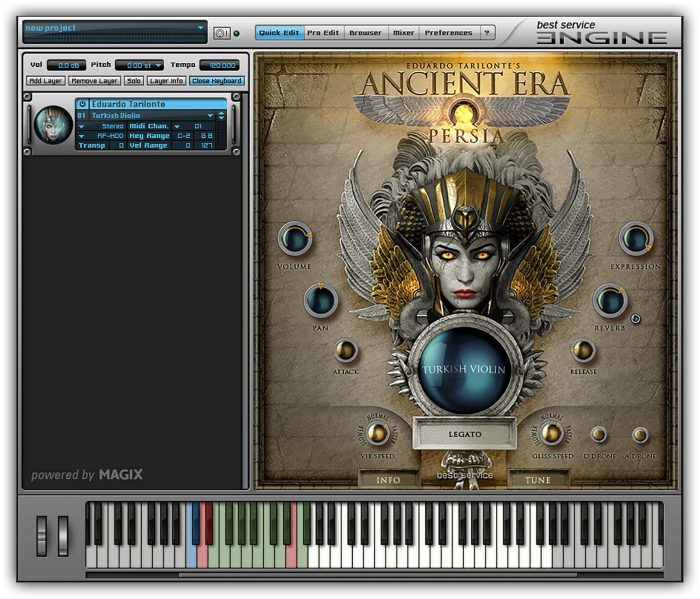 Once again, Eduardo Tarilonte seduces you into almost forgotten sounding worlds. This time, he moves to capture the sounds of the birthplace of magic and mystic of some of the oldest civilizations. Experience arcane sounds such as being heard in Arabian Nights, the soundtrack of desert sand trickling away in time and music that makes the Prince of Persia dance.

For Ancient ERA Persia, Eduardo Tarilonte has recorded 28 percussion-, wind- and stringed-instruments in highest quality and finest detail. In addition, you will find authentically performed phrases as well as inspiring sound atmospheres. The instruments offer all articulations being used in the phrases. Several microtunings allow the use of every desired tuning for the instruments.

The sounds of Ancient ERA Persia are really unique and cannot be matched by any other library. The excellent choice of instruments, articulations and sound atmospheres provides the musician and producer with an extensive compendium with as good as no sound missing.
Ancient ERA Persia is available for purchase for 259 EUR/$259 USD/£219 GBP. Registered users of Desert Winds can upgrade for 159 EUR/$159 USD/£135 GBP.
Best Service has also released an update for Chris Hein Solo Violin. Version 1.2 now comes with two different violins.
Naomi and Chris Hein decided to record another violin: "The Italian Violin"

Chris managed to get hold of a very old Italian violin by Augusto Pollastri. (After the recordings the violin has been sold for € 100.000)
All articulations and functions of the "Italian Violin" are identical to the "Solo Violin" but has a very different sound. The new "Italian Violin" has a softer and warmer tone compared to the original "Solo Violin".

Chris Hein's Solo Violin now offers two violins with different characters, so you can chose your violin depending on your project or mood.
Chris Hein Solo Violin Vol. 1.2 is available for purchase for 259 EUR. Owners of the original Solo Violin can update for 49 EUR, and owners of the Chris Hein Solo Strings Complete bundle (599 EUR) will receive the update for free.
More information: Best Service