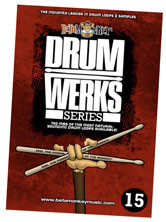 Beta Monkey Music has announced the release of its Drum Werks XV and XVI: Essential Rock Grooves in REX2 format.
Each drum loop collection captures the power of rock for classic and contemporary hard rock music. Drum Werks XV and XVI are complete rock songwriting packages, featuring over 500 acoustic drum loops combined with complete matching multi-velocity sample sets. For all musicians using the REX2 loop format, get that true L.A. rock sound and attitude for authentic drum tracks.
Beta Monkey Music's Drum Werks XV and XVI: Essential Rock Grooves REX2 features
Versatile Rock Drum Grooves: You'll have all the tools need to build your favorite rock songs. Drum Werks XV and XVI are a great alternative to the busy over-played collections flooding the sample market. Hard-driving, no-nonsense studio rock grooves with Groove Sets™ ranging from 50 BPM to 160 BPM.
Cohesive Drum Sounds: All drum loops are taken from the SAME recording session (all grooves, fills, one shots, etc. are sonically-matched) ensuring maximum versatility.
Fully-Sampled Drum and Cymbal Samples: Get more flexibility with a complete matching set of drum and cymbal samples. A fully-sampled Mapex Maple Recording drum kit, several snares (Ludwig and Mapex), and a number of Zildjian cymbals give you further control over your drum tracks.
Complete Song Elements: Count-ins, main grooves, groove variations, fills, intros and endings – all the parts you need for songwriting are included. A complete songwriter package for any style needing the attitude and hard-hitting of rock drumming.
The REX2 format libraries are now shipping for both Drum Werks XV and XVI collections. Wav and Apple Loops (AIFF) formats are also available.
More information: Beta Monkey Music