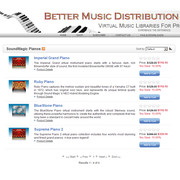 Better Music Distribution has announced it is now distributing instrument plugins from Sound Magic.
Better Music Distribution is very pleased to announce the partnership with Sound Magic for the US market. Two brand new pianos have been recently released and are now available through Better Music Distribution in the USA.
Sound Magic instruments
Imperial Grand Piano

– The Imperial Grand virtual instrument piano starts with a famous dark, rich Bösendorfer style of sound, the first modeled Bösendorfer 290SE with 97 Keys.

Ruby Piano

– Ruby Piano captures the mellow sustain and beautiful tones of a Yamaha C7 built in 1972, which has original ivory keys, and represents its unique timbral quality through Sound Magic 's NEO Hybrid Modeling Engine.

BlueStone Piano

– The BlueStone Piano virtual instrument starts with the robust Steinway sound, utilizing these powerful harmonics to create the authenticity and complexity that has long been a standard in concert halls around the world.

Supreme Piano 2

– The Supreme Piano 2 virtual piano collection includes four world's most stunning and finest grand pianos. A true piano legend.