Positive Grid has announced the availability of its BIAS AMP 2 Mobile, a virtual amp app that lets you virtually create the tone and feel of real tube amplifiers on the go.
That's right – the new tubes, transformers and tone stacks, the new UI, the new multi-mic speaker cabinet module and the awesome new Blues and Bass packs are all now available for your iPad and iPhone! Not only that, but our exclusive custom Celestion speaker cabinets are available for in-app purchase as well, so you can get the sound of classic records on your mobile device now!

If you're a BIAS hardware amplifier owner you'll also be pleased to know that BIAS AMP 2 Mobile now works as a freemium app, and connecting your BIAS amplifier hardware to BIAS AMP 2 Mobile automatically unlocks full functionality. It brings all of the new advancements contained in BIAS AMP 2 to your live rig, making it even easier to get to your ideal tones.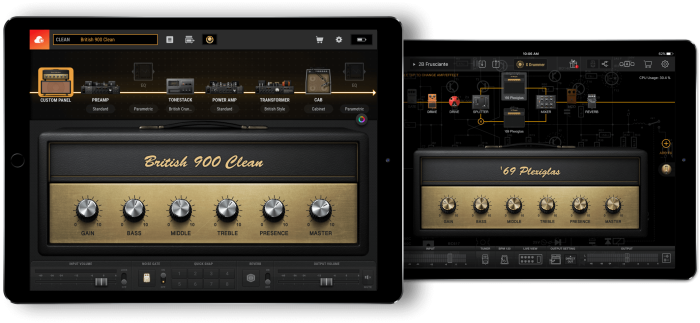 BIAS AMP 2 Mobile features
Complete, accurate, and versatile amp modeling.
36 amp models included with the introductory release.
Factory categories that allow you to organize amps by music genre and sonic impact (clean, blues, twang, crunch, metal, acoustic, and bass).
Fully customizable preamps, tone stacks, power amps, transformers, cabinets, and mic selection and placement – mix and match!.
Customize the look and feel of your amp panel by changing the name, tolex, panel, and knobs.
Ability to work the way guitarists think: Tweak gain and overdrive, swap out tubes and transformers, change the cabinet and mic position, and shape the tone with different tone stacks and two 8-band equalizers.
Noise gate and room simulator.
Create a virtually unlimited number of custom amps.
Preset to recall each of your 8 favorite settings.
Works with GarageBand and other audio apps via Inter-App Audio and Audiobus.
BIAS AMP 2 Mobile is available for download from the App Store for free.
More information: Positive Grid