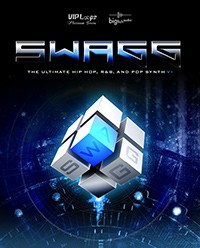 Big Fish Audio has announced the release of SWAGG, an urban synth virtual instrument developed by VIP Loops in collaboration with Big Fish Audio.
Based on the hottest sounds that create today's hip hop, R&B, pop, and soul hits, SWAGG is the ultimate urban instrument! Make your productions stand out from the competition with huge sounds that cut through your mix. Designed completely from the ground up, SWAGG contains over 8GB (11GB uncompressed) of samples and a total of 345 patches specifically designed for urban music production.

When you're in the studio and under deadlines, you need to get down to business quickly. Whether you're a seasoned pro or new to virtual synths, SWAGG is easy to use and delivers go-to sounds allowing you to create top notch productions without wasting studio time.
SWAGG features
Triggerable Pitch FX (preset pitch envelope settings).
Triggerable Stutter FX (synced to tempo).
Toggleable reverse sample playback.
Amp, Filter Envelope and Filter Cutoff/Resonance.
Morphable Q-Tone filter and 5 compressor presets.
Modulation FX (chorus, flanger, phaser – 3 presets each), Reverb (9 presets), Delay (8 presets), each with adjustable wet level.
Easy to use 24/7 arpeggiator with several modes.
LFO with 5 different waveforms assignable to pitch, filter, cutoff and pan.
Velocity routable to filter cutoff and amp.
Mono mode with portamento (glide).
ADSR right at your finger tips.
All features accessible from the front screen.
SWAGG for Kontakt Player 5 is available as a download and on DVD, priced at $199.95 USD.
More information: Big Fish Audio / SWAGG