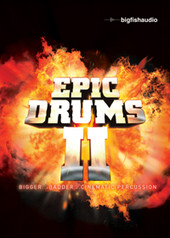 Big Fish Audio has released Epic Drums II, a cinematic percussion sample library.
Big Fish Audio and FUNK/SOUL PRODUCTIONS brings you a 2nd collection of high-energy, cinematic drum and rhythm beds played by top-knotch percussionists.

Featuring loops, one-shots and extended performances of an even wider array of percussion instruments, from huge Chinese kang gu to Chinese kettle drums, battle drums, gongs, cymbals, tank drums, waterphone, massive toms, metals, and a bonus folder of sound design elements, such as: monster-hits, risers, impacts, drum and cymbal rolls, and special effects.

Choose from either the multi-formatted WAV, REX, Apple Loop, and RMX version, or the custom Kontakt version.
Epic Drums II features
5 GB of 24-bit original WAV files.
1,317 original loops, 518 one-shot samples, 38 construction kits.
Instruments Include: 18″ Toms, Bamboo Sticks, Bass Drums, Battle Drums, Big Ensembles, Bongos, Chappas, Chinese Kettle Drums, Darbukas, Dholaks, Djembes, Frame Drums, Gongs, Hi-Hats, Roto Toms, Big Toms, Claps, Concert Toms, Crashes, Gu Zheng, Kang Gu Ensemble, Metal Strikes, Occarina, Quicas, Ride Cymbals, Rims, Shakers, Snares, Sticks, Tank Drums, Tablas, Taikos, Tambourines, Thunder Tube, Timpani, Temple Blocks, Tibetan Bowls, Timpanis, Udus, Vocals, Waterphones, Wood Flutes, Yiu Gu, Zither.
Epic Drums II is available to purchase for $129.95 USD.
More information: Big Fish Audio / Epic Drums II