Binary Music has announced the release of Energy Bow Guitar, an expressive sample instrument of an E-Bowed guitar.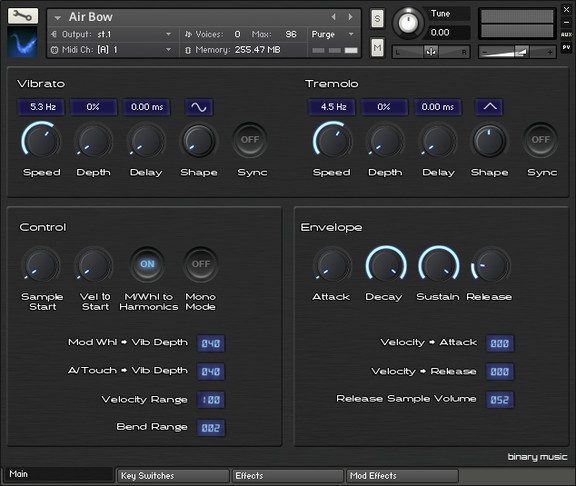 The Energy Bow Guitar library is an expressive Kontakt instrument made from recordings of a Fender American Standard Strat played with an E‑Bow. Sampled chromatically from a drop tuned D2 to A5. We fitted a Seymour Duncan Little '59 humbucker for extra sustain and everything was recorded cleanly through an Inward Connections Vac Rac 4000 pre-amp.
Energy Bow Guitar features
Chromatically sampled.
Clean samples with three round-robins per note.
'Character' samples with three round-robins. These are still non-distorted samples, but feature the bow occasionally touching the strings and other performance blips and can be selected by a key switch.
Harmonic samples with three round-robins. The modulation wheel can be used to crossfade into them.
Release samples.
Tempo syncable LFOs for vibrato and tremolo.
Sample start offset to enable faster phrases.
All samples were recorded in 24 bit at 44.1kHz.
Energy Bow Guitar for Kontakt is available for purchase for £17 GBP/21 EUR/$23 USD including VAT in the EU.
More information: Binary Music