Bitwig has announced Bitwig Studio 1.3 Release Candidate, the latest version of the music production software for Windows, Mac and Linux.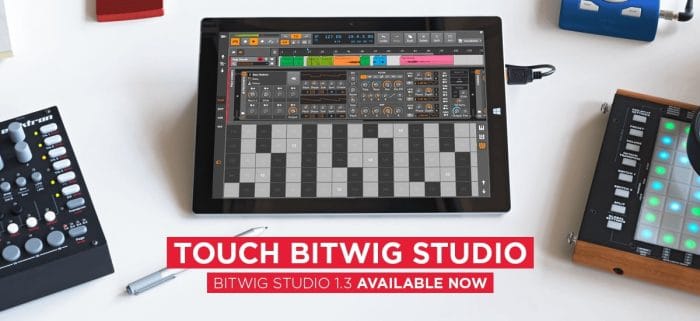 Today the complete power of Bitwig Studio is literally at your fingertips. We've developed multi-touch functionality to quickly identify gestures for the most unique and intuitive workflow ever. If you've been waiting for the right moment to get your hands on Bitwig Studio, now is definitely the time.

Introducing the latest version of Bitwig Studio, featuring multi-touch, tablet display profile, gestures, pen control, and more cowbell. The Bitwig Studio 1.3 release candidate is available now.
Changes in Bitwig Studio RC 1.3
Multi-Touch — Control multiple faders, knobs, and device displays at the same time. Multi-touch is limited only by the capabilities of the hardware on which Bitwig Studio is installed.
Radial Menu — Press and hold anywhere on the screen for a quick access menu for multiple actions.
Touch Keyboard — An integrated keyboard that includes X/Y axis controls independent for each finger. An additional dimension, "Pressure" is available when using the Touch Keyboard with Pen and Microsoft Surface Pro.
Track Header — One single button has effectively replaced four. Simply tap and swipe in a direction to activate.
New E-Cowbell Device — You've got a fever, and the only prescription …is more cowbell.
Bitwig 1.3 release candidate is now available for download for Windows, Mac and Linux.
More information: Bitwig