Bitwig has released version 2 of Bitwig Studio, featuring a re-conceptualized modulation system with 25 brand new Modulators.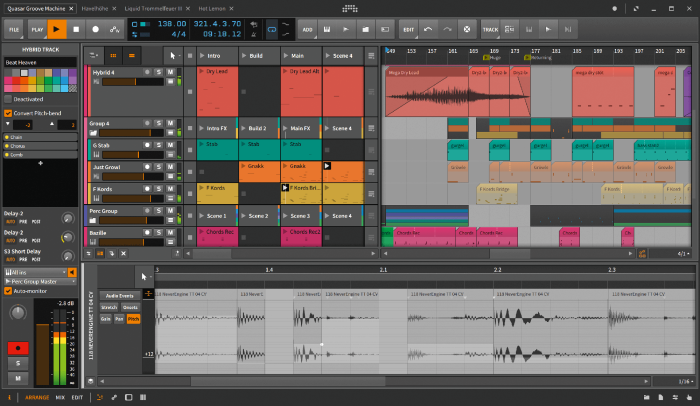 Released in 2014, Bitwig Studio 1 was the first music production software to combine linear and non-linear sequencing on Windows, macOS and Linux. It combined cutting-edge technologies like plug-in crash protection and a highly flexible user interface, alongside a lightning-fast workflow experience for keyboard, mouse and touch screens.
Today we are proud to announce the launch of Bitwig Studio 2.

From the start, the idea of modularity has been central to Bitwig Studio. While digital audio workstations (DAWs) aren't known for taking a modular approach, creating Bitwig Studio from the ground up allowed us to rethink previous assumptions. This led us to focus not just on individual devices but on strengthening the ways they interact with and support one another. Within the Bitwig Studio 1 cycle the concepts of Nested Device Chains as well as Modulator Devices made it already one of the most flexible DAWs in the industry.

In Bitwig Studio 2 the modularity concept has been developed further. The entire modulation system has been reworked and the idea of modulators has been reimagined. Today we're proudly presenting this next step on our journey toward a fully modular device architecture. Beside our focus on modularity, we also refined all other areas of the Bitwig Studio workflow.
Changes in Bitwig Studio 2
A re-conceptualized Modulation System.
25 new Modulators: 4-Stage, ADSR, AHDSR, Audio Sidechain, Beat LFO, Button, Buttons, Classic LFO, Envelope Follower, Expressions, HW CV In, Keytrack, LFO, Macro-4, Macro, Math, MIDI, Mix, Note Sidechain, Random, Select-4, Steps, Vector-4, Vector-8, XY.
Numerous device updates, including dynamic displays and spectrum analyzers

Audio FX: Spectrum analyzer, Pitch shifter, Treemonster, Phaser, Dual Pan.
Hardware integration devices: MIDI CC, MIDI Program Change, MIDI Song Select, HW Clock Out, HW CV Instrument, HW CV Out.
Note Effects: Multi-Note, Note Echo, Note Harmonizer, Note Latch, Note Length, Note Velocity.

Remote controls.
Fades and crossfades.
VST3 support.
Better hardware integration.
Smart tool switching.
Improved editor workflow.
MIDI timecode support.
New menu system.
Dashboard.
Notification system.
Adjustable track height in arranger.
Controller API improvements.
…and much more.
Bitwig Studio 2 is available for purchase for MAP 379 EUR/$399 USD. The upgrade from Bitwig Studio 1 is 159 EUR/$169 USD. Renewal of upgrade plan after 12 months is 159 EUR / $169 USD.
More information: Bitwig / Bitwig Studio