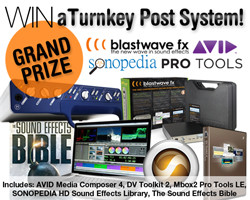 Blastwave FX has announced a Blastwave FX and Avid Competition and Giveaway.
We've teamed up with AVID/Digidesign for our next sound design competition. This time, the stakes are high! The grand prize, retailing $8300, includes the AVID Media Composer, SONOPEDIA, Pro Tools LE, Mbox 2 and much more.

Skip Lievsay (No Country for Old Men), Jacob Ribicoff (Nine) and Ric Viers (Blastwave FX) are our esteemed judges, and you've got until Cinco de Mayo (May 5, 2010) to get your entries in.

Oh and one more thing, just by registering, not only will you receive 45 free sound effects, you will be automatically entered to win a basic post package retailing $1800.
Blastwave FX has also announced a limited time sale for its Pop!, Buzzsaw and Ambience I Sound FX sample libraries, offering a $100 USD discount on each title.
More information: Blastwave FX