Blue Cat Audio has announced Blue Cat's Re-Guitar, a new guitar tone modeling plugin capable of emulating an infinite number of guitar tones out of a single instrument.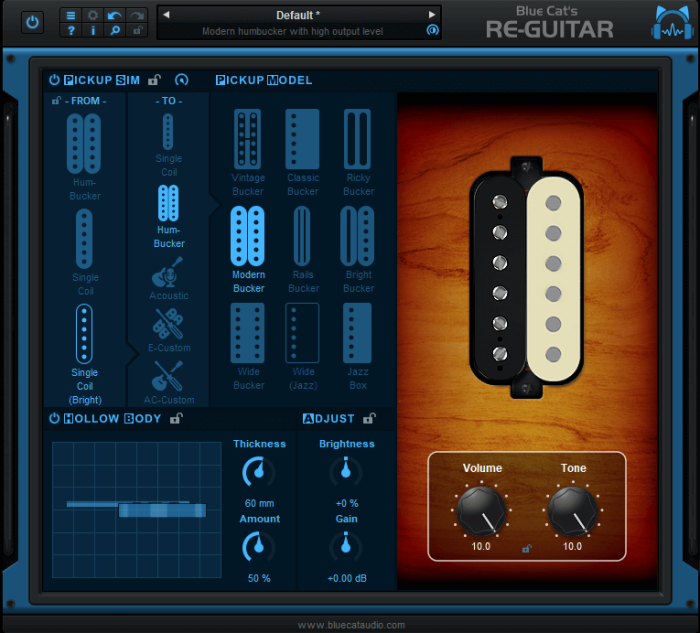 Re-Guitar can simulate many kinds of guitar tones (electric or acoustic), regardless of the guitar model used for recording. It includes a pickup simulator that emulates many models of renown electric guitar pickups and lets you create you own. The plugin also includes a selection of acoustic guitar simulations, and you can craft your own too.
It is also possible to emulate hollow body guitars and adjust the desired thickness of the body. In addition to brightness and gain adjustments, the plugin provides virtual tone and volume pots to tweak the tone in details.
"Re-guitaring" can be used to enhance or completely modify the guitar tone while playing your own instrument, or to virtually switch guitars after recording – just like we already do with guitar amp simulations.
Blue Cat's Re-Guitar will be demoed at the Winter NAMM Show this week on booth #16300, and the release is expected around Q2 2019.
The plugin will be included as a free update inside Blue Cat's Axiom, the company's multi effects processor for guitar and bass, and will also be available for purchase separately as an independent plugin. At this occasion, Axiom is available for purchase with 25% off until the end of the NAMM show.
Re-Guitar features
Guitar tone modeler, with electric pickups, acoustic guitars and hollow body emulations.
Built-in single coil pickups: single hot, vintage, modern, active, tele, neck+mid, bridge+mid, P90, P90J.
Built-in humbucker pickups: vintage, classic, ricky, modern, rails, bright, wide, wide (jazz), jazz box.
Built-in piezo & acoustic guitars: solid body piezo, acoustic sim pedals, modern & dreadnought, jumbo, mini jumbo, 000, small.
Create your own electric pickups or acoustic guitar emulations with the custom electric and custom acoustic models.
Adjust hollow body thickness and amount.
Adjust simulations brightness and gain.
Built-in virtual volume and tone pots.
No latency.
Blue Cat Audio has also released significant updates for its dynamics processing and audio analysis plugins.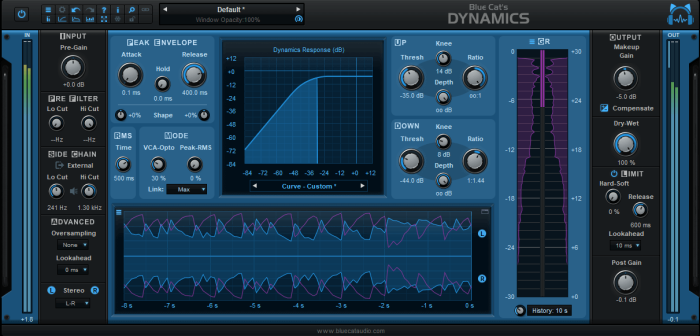 The user interface of the Blue Cat's Dynamics and Protector plugins have been fully redesigned, and the appearance of the analysis plugins has also been refreshed. All plugins are now fully zoomable to adapt to the size of the screen.
The two dynamics processors now offer a lookahead function to anticipate volume changes and react faster, and the Dynamics plugin is now interoperable with the recently updated MB-5 Dynamics multiband plugin.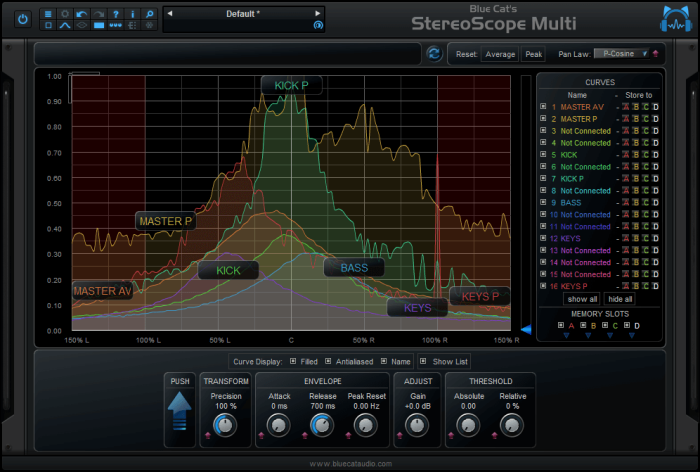 The updated StereoScope Multi and FreqAnalyst Multi plugins perform most of the computations in the background, freeing up resources for other real time audio tasks.
The new versions of the plugins will be demoed at the Winter NAMM Show this week on booth #16300, and are expected for release in Q1 2019.
Updates will be free for existing customers, and preview versions are already available for existing customers.
More information: Blue Cat Audio