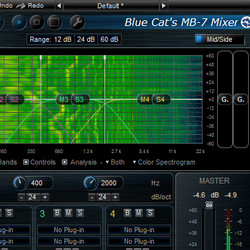 Blue Cat Audio has announced the release of Blue Cat's MB-7 Mixer 2.0, a complete rewrite of the multiband processing plug-in, now including multiband VST hosting capabilities.
Blue Cat's MB-7 Mixer is a unique plug-in that splits the signal into several frequency bands and lets you mix and process them as if they were separate tracks.

In addition to the ability to host up to 4 VST plug-ins per band and thus transform any regular plug-in into a frequency-aware processor, Blue Cat's MB-7 Mixer has now a brand new modular user interface, with lots of new features and enhancements: a spectrogram display, a new presets manager, multiple display sizes, new MIDI and automation mapping capabilities, and more.
Changes in MB-7 Mixer v2.0
New Features

Brand new, fully customizable user interface

New look and feel.
Show only what you need.
New color or greyscale overlayed spectrogram view.
Multiple display sizes.
Customizable gain range.
Improved readability.
Animated transitions.

Multiband VST Hosting

Apply VST effects to a selected frequency range.
Add up to 4 VST plug-ins on each band.
Pre and post fader plug-ins slots.
Integrated latency compensation engine, with real time host reporting.
Optional undo/redo integration.
VST Presets Management.
Bypass inserted plug-ins individually.

New integrated presets manager

Load/save presets from the plug-in's user interface.
Organize presets with folders.
Customize the default preset.
Exchange presets easily.
Automation range and response curve can now be customized for each parameter (in and out).
Automation and MIDI settings (channel, MIDI learn etc.) are now accessible from the main user interface.

Improvements

New presets to get started faster.
The windows installer now automatically detects the most appropriate VST install path.
License is now shared between plug-ins types (register only once for all formats).
Improved value display in fine edit window.
Improved parameters display on control surfaces.

Optimizations and Performance Improvements

Improved parameters precision (now stored as 64-bit).
More compact presets format (uses less space and loads faster).
Smaller binaries on Mac (dropped PowerPC support).

Bug Fixes

(RTAS) Fixed parameters control with EUCON control surfaces in Pro Tools.
Fixed user interface issues in Final Cut Pro X.
Fixed keyboard stealing issue in Digital Performer 7 on Mac.
Fixed copy/paste keyboard shortcut issues in the registration panel on Mac.
MB-7 Mixer 2 is available to purchase for the introductory price of 74 EUR / $96 USD until September 30th, 2013 (regular 99 EUR / $129 USD). The upgrade from MB-7 Mixer 1 is 19 EUR / $25 USD. The plug-in is also included in various bundles, which are also 20% off until September 30th.
More information: Blue Cat Audio / MB-7 Mixer