Blue Cat Audio has released version 1.2 of PatchWork and version 2.2 of MB-7 Mixer, a new version of its audio plug-ins that can host third party VST plug-ins.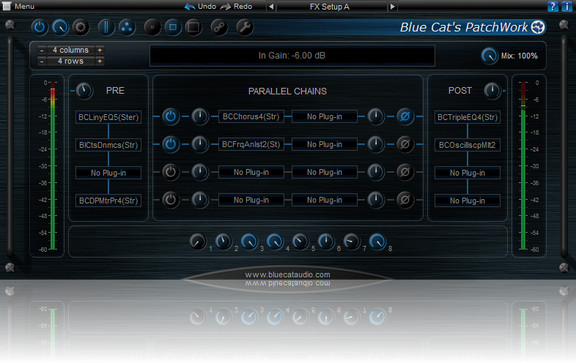 With Blue Cat's PatchWork 1.2, Blue Cat Audio has added flexible MIDI routing capabilities to its "universal plug-ins patchbay": it is now possible to connect hosted plug-ins together or with the host application to send and receive MIDI messages.

For both plug-ins, this new version also brings the ability to rename plug-ins instances, as well as several performance and compatibility improvements (full list below).
Changes in PatchWork v1.2
MIDI Routing: custom MIDI routes can be created to connect plug-ins together and with the host application, to send and receive MIDI messages.
Mono to stereo processing: the plug-in can now be used as a mono to stereo plug-in and process mono tracks with stereo effects in hosts that support it.
The "Parameters Map" menu item is now checked when a parameter is mapped.
Changes in PatchWork v1.2 & MB-7 Mixer v2.2
Plug-in instance Renaming: it is now possible to give a name to each instance of a plug-in.
Improved performance of undo tracking when loading presets for plug-ins with many parameters.
Improved performance when changing the size of the plug-in user interface.
Fixed keyboard stealing issue in many host applications when sub plug-ins editors are opened (except 32-bit applications on Mac).
Fixed compatibility issue with Pro Tools 9 on Mac (random crashes).
Fixing crashes with some plug-ins requesting information while being opened.
Blue Cat's PatchWork: 59 EUR/$79 USD, MB-7 Mixer is 99 EUR/$129 USD. The update is free for existing customers.
More information: Blue Cat Audio