Bolder Sounds has launched Electric Sitar, a new instrument library for Native Instruments Kontakt.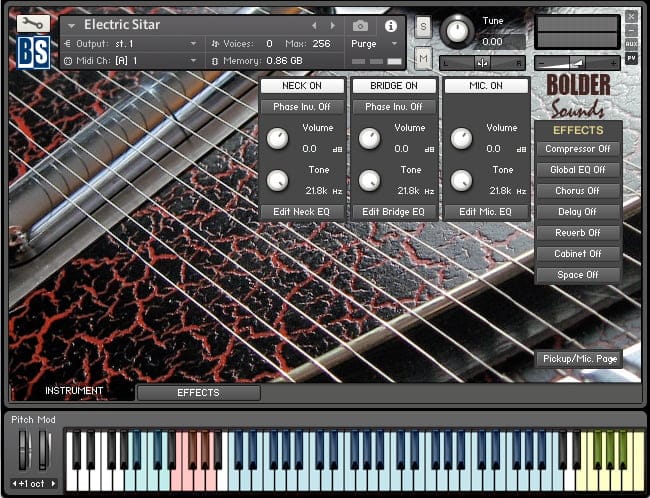 The Danelectro company produced an electric sitar and gave John Lennon and George Harrison the first two made. The instrument was designed by New York session musician Vinnie Bell. Their goal was to make a guitar that sounded like a sitar made famous by on Beatles recordings, but in an easily playable form. This instrument has been featured on a wide variety of music including the 60's psychedelic era, progressive rock and jazz fusion.

3 independent sample sources were recorded from the Electric Sitar – neck and bridge pickup samples as well as a microphone signal. The mic samples give this instrument a very animated high end with the result being a bit of a acoustic-electric hybrid, giving us a closer emulation of a real sitar. Extensive KSP scripting by Bo Clausen will give the user a wide ranging of tonal color.
Electric Sitar features
3 velocity layers for all the sustain samples.
Independent Volume and Tone/EQ control of each sample source – bridge and neck pickups as well as mic samples.
A very advanced scripted Pitch Bend and Vibrato control.
Detailed Articulation control to emulate slurs (hammer-ons and pull-offs).
Sampled Slides – both ascending and descending in half, whole and one and a half steps.
Detailed KSP scripted control of Fretting Position on the neck of the guitar, including an Auto Fret Selection feature.
A Key Switch Page where you can freely assign which key will trigger the various Key Switches.
9 different effects – each with its own Preset menus, so you can save and recall all the various parameters.
The library is available for purchase for the introductory price of $44.95 through May 1st, 2015 (regular $59.95 USD).
More information: Bolder Sounds / Electric Sitar