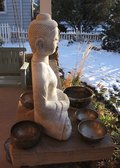 BOLDER Sounds has released Tibetian Singing Bowls, a 760MB sample library featuring the sounds of Tibetan Singing Bowls.
The bowls were struck by a number of items for a wide selection of tone colors. Also included are a few bonus Tingsha Bell samples. The Singing Bowls were "played" hit and also sustained. The sustained samples are what people refer to as "singing" bowls. This sound is created by running the puja stick along the rim of the bowl, similar to the way you can run a wet finger along the edge of a crystal glass and make it "sing".
Tibetian Singing Bowls features
6 Tibetan Singing Bowls, 5.75 to 9.5 inches in diameter.
760 MB of 24 bit stereo samples.
Articulations – Hits, Sustains and Sustain Releases.
Hit samples are organized in to BRIGHT and SOFT categories.
NI Kontakt 2 and Apple EXS24 formats
Tibetian Singing Bowls is available for $79.95 USD.
A free demo (20MB, 16-bit samples) is available for download.
Visit BOLDER Sounds for more information.