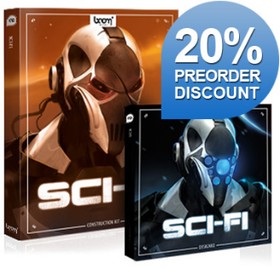 BOOM Library has announced the pre-release of its SCI-FI sound fx sample library.
For the SCI-FI CONSTRUCTION KIT, we recorded tons of new stuff. We used a lot of field and studio recordings. We recorded servo sounds from small to large, hydraulic sounds, air releases and tons of plastic and metal movement, impacts, rattle sounds. Besides that, we created lots of synth based sounds, like sweeps and drops, weird material and simple beeps.

This is your toolkit for brand new futuristic HD Sci-Fi sounds.

SCI-FI DESIGNED will let you create high quality futuristic sound design in light speed. Choose from a huge arsenal of powerful lasers, rail guns, plasma beams, unique alerts, whole ambiences, awesome mechanics, energy fields, etc. to equip your SCI-FI universe with the right sounds.
Until the official release in October, the bundle is available to purchase at a 20% discount.
More information: Boom Library