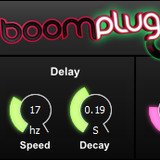 Boomplug has released version 1.1 of BoomComb, a free tuneable comb filter effect plug-in for Windows.
The new 1.1 version has been rebuilt so that the GUI version can now support windows XP. Also there is a load of new presets provided by the talented Groove Criminals. As well as that the feedback control has been changed into a decay control to control the length of the resonation. Along with all this there are many bug fixes and optimizations.
Changes in BoomComb v1.1
Changed Feedback to decay control.
GUI Framework now renders to a back RenderTarget.
New internal Preset system and selector.
Fixed memory Leak with loading of PNGs.
GUI Framework also uses GDI for XP support.
Presets and preset selector.
Fixed fine tune control while moving knob.
Fixed exception on release of factory resources.
Many other fixes and optimizations.
BoomComb is available to download as a freeware VST effect plug-in for Windows PC.
More information: Boomplug