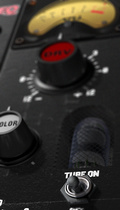 Boosty has announced the upcoming release of BootEQ mkII, the further improved and reworked successor of the popular musical mixing EQ.
Beside some enhancements in the EQ department BootEQ mkII features a detailed modelled pre-amp section including finest transformer and tube saturation emulation.

More details and specification will be unveiled in january on varietyofsound.wordpress.com and the release is targeted to february.
If you haven't tried BootEQ yet I can highly recommend it. You can download it here.
More information on BootEQ mkII soon at Variety of Sound.