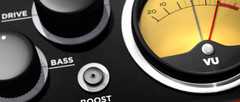 Bootsy has revealed more information on TesslaPRO, a signal saturation modeling audio processor VST effect plug-in for Windows PC.
The TesslaPRO audio processor is aimed to take the critically acclaimed TesslaSE signal saturator on to the next level.
Changes in TesslaPRO
The amount of untouched transient information can be dialed in variable. This way one is able to obtain full control on where signal saturation is going to happen and how such effects appear into a mix sonic wise.
Core algorithm re-written in assembler, further optimized and runs now 4 times oversampled.
DRIVE amount is now output level compensated and in addition there is more precise and detailed control on the reworked transformer style bass distortion.
Completely redesigned user interface.
Some bugfixes, e.g. the slow loading time issue which occured in some system configurations.
TesslaPRO will be available as a VST effect plug-in for Windows PC, in Q2/2009.
Visit Variety of Sound for more information.