BOSS has announced the WL series, a new line of high-quality wireless systems for guitar, bass, and other electronic instruments.
Equipped with lightning-fast wireless technology newly developed by BOSS, the WL series delivers premium audio performance with ultra-low latency and rock-solid stability. Providing a plug-and-play experience with no aggravation or guesswork, the WL series makes it easy for players to bring wireless freedom to home, rehearsal, and small stage rigs.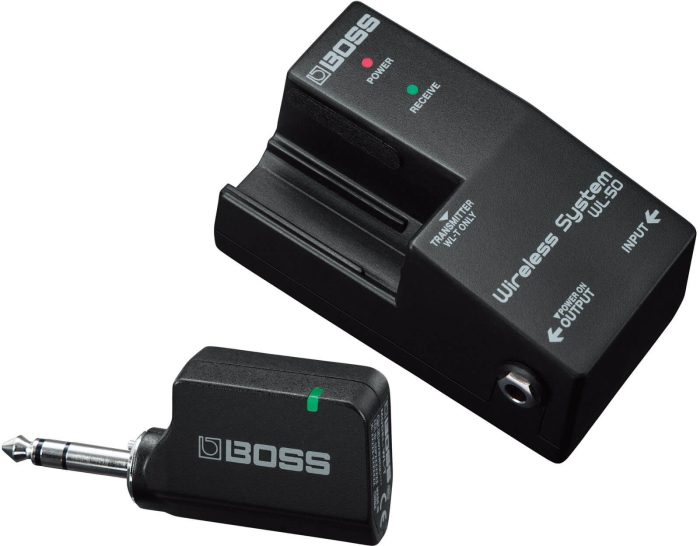 The WL series offers exceptional sound quality with nearly effortless setup. The optimum wireless connection is set automatically when the transmitter and receiver components are docked, with no other user intervention required. A built-in rechargeable battery in the transmitter provides up to 12 hours of continuous play time.

Ultra-compact and affordable, the WL-20 Wireless System is as simple to use as a standard guitar cable. A small transmitter plugs into the instrument and a matching receiver plugs into a pedal or amp. The receiver includes cable tone simulation, which reproduces the natural capacitive effect of a 10-foot/3-meter guitar cable.

The WL-20L Wireless System is identical to the WL-20, but eliminates the cable tone simulation. This makes it a good choice for use with an acoustic/electric guitar with an onboard preamp, active pickups, or a line-level instrument such as a keytar or Roland's Aerophone.

With its stompbox-size footprint, the WL-50 Wireless System is ideally suited for pedalboards. It features an integrated transmitter dock, plus two cable tone simulation options. The receiver is powered via a PSA-series adapter or AA batteries. With adapter power, the receiver's DC output can distribute power to one or more pedals.

The WL-T Wireless Transmitter can be purchased as a spare for use with a WL-20, WL-20L, or WL-50 system or the Katana-Air wireless guitar amp.
BOSS has also announced the TU-03 Clip-On Tuner & Metronome, the latest addition to the company's industry-leading lineup of instrument tuners.
Ideal for guitar, bass, ukulele, and other stringed instruments, the TU-03 combines a high-performance chromatic tuner and metronome in one clip-on unit, giving players two essential music tools in a single convenient device.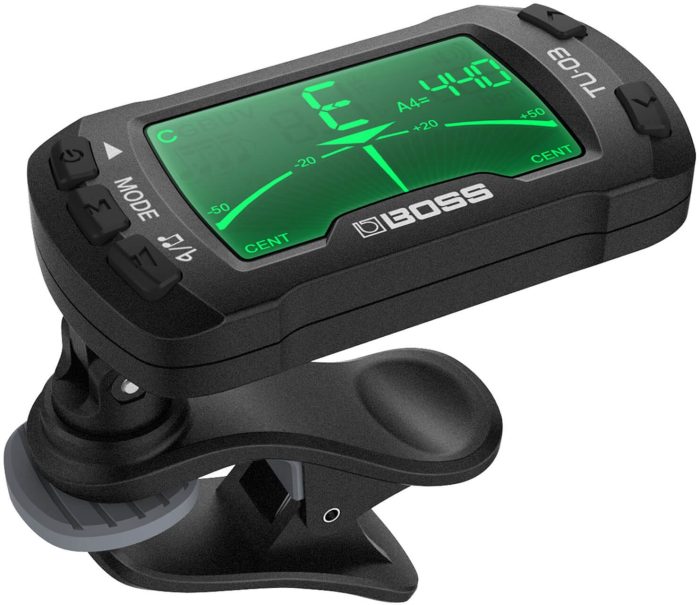 BOSS's famous tuner range offers numerous solutions for all types of musicians and educators, with everything from handheld designs to pedal-based models like the touring-standard TU-3. The new TU-03 joins BOSS's two other clip-on models, which include the compact TU-01 and sleek TU-10.

The TU-03 features BOSS's trusted tuner technology for quick and accurate instrument tuning. Users can switch between standard chromatic mode and dedicated guitar, bass, ukulele, and violin modes. The reference pitch is adjustable from 430-450 Hz, and flat and double-flat tunings are supported as well. Reference pitches can also be sounded through a built-in speaker.

With its metronome mode, the TU-03 puts an important practice tool right on the player's instrument. Unlike other clip-on tuners that offer visual metronomes only, the integrated speaker and metronome display in the TU-03 enables users to both hear and see the beat. There are eight different patterns and ten beat variations available, and tempo is adjustable from 30-250 BPM.

The TU-03's design is compact, light, and rugged, with a padded clip for quick attachment and removal. A large backlit display provides easy readability in any environment, from dark stages to bright sunlight.
More information: BOSS