BOSS has announced the Compact Pedal 40th Anniversary Box Set, a special limited-edition commemorative package, featuring one-time-only reissues of the OD-1 Overdrive, PH-1 Phaser, and SP-1 Spectrum – the original three BOSS compact pedal models.
Each pedal set is made in Japan and comes in a deluxe presentation box with a serial number, the BOSS 40th Anniversary logo, and a personal message from BOSS President Yoshihiro Ikegami.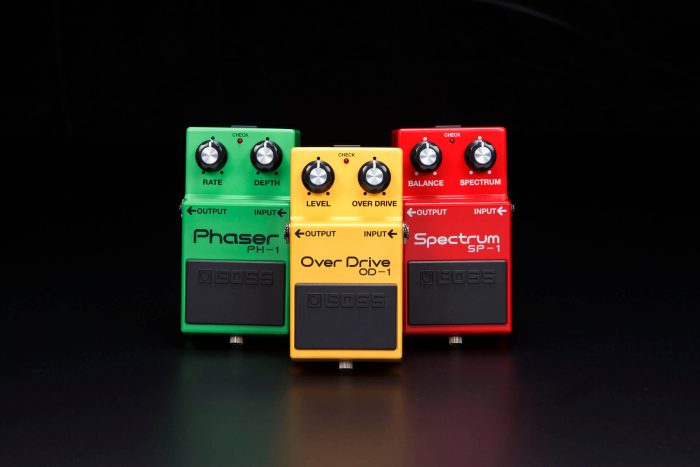 In 1977, BOSS launched the now-famous compact series with the OD-1, PH-1, and SP-1. Over the last four decades, the iconic line has been loved by generations, with 119 unique pedal models produced and well over 15 million units sold. The original three pedals have gone on to become rare classics, commanding high prices on the vintage gear market. With the reissues in this exclusive box set, BOSS celebrates the birth of the compact line with loyal BOSS supporters around the world.

The reissue OD-1, PH-1, and SP-1 pedals are produced exactly as the originals were, with wiring and circuit adjustment performed by hand on a special production line in Japan. All electronic components are carefully selected, ensuring fully accurate reproduction of the original pedals' sound and response. Each pedal also includes subtle improvements for modern performance, including a PSA-compatible power supply section with a protection circuit and noise filter, a reinforced battery snap, and an LED that shows effect on/off status.
BOSS also introduced the DR-01S Rhythm Partner, a new instrument that provides percussion backing for acoustic guitarists and other acoustic musicians.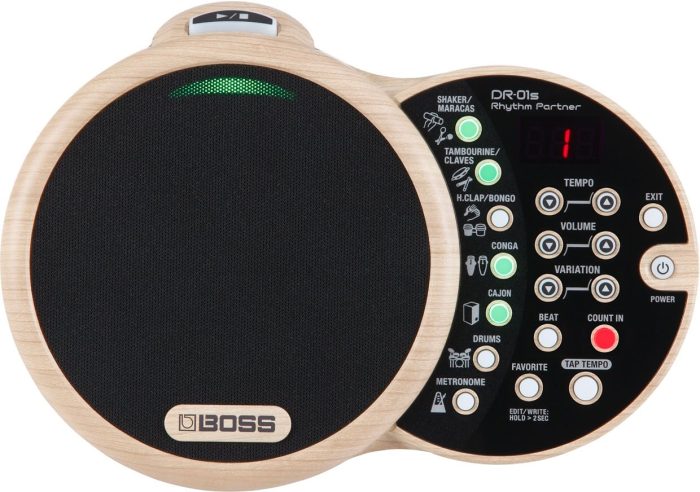 The DR-01S features a powerful integrated sound system, and comes equipped with ready-to-play rhythm patterns that complement unplugged acoustic instruments. Compact, battery-powered, and simple to use, the go-anywhere DR-01S makes playing acoustic music even more enjoyable and inspiring.

Unlike other rhythm machines that are designed for electronic and pop music applications, the DR-01S is a unique product specifically designed for acoustic music. Backed by decades of percussion development by BOSS and Roland, the DR-01S contains a wide variety of organic acoustic sounds derived from high-end products.

Via an intuitive interface, DR-01S users can access simple patterns and variations that are optimized for acoustic music styles. It's also possible to add or subtract instruments – for example, shaker, tambourine, bongos, congas and more – on the fly. Dedicated buttons are on hand to quickly adjust volume and tempo, and to add a count-in before the accompaniment starts. The DR-01S also includes a standard metronome for basic music practice.

The DR-01S is equipped with a sophisticated audio system that produces big, full sound from a small footprint. An Aux In jack allows users to play backing music from a smartphone or other device, while a Line Out jack enables connection to a larger sound system. The DR-01S also supports optional footswitches for start/stop, tap tempo, and triggering sounds.
The Waza Amp Head 75 was also announced. This new guitar amplifier expands the flagship Waza series to two amp models.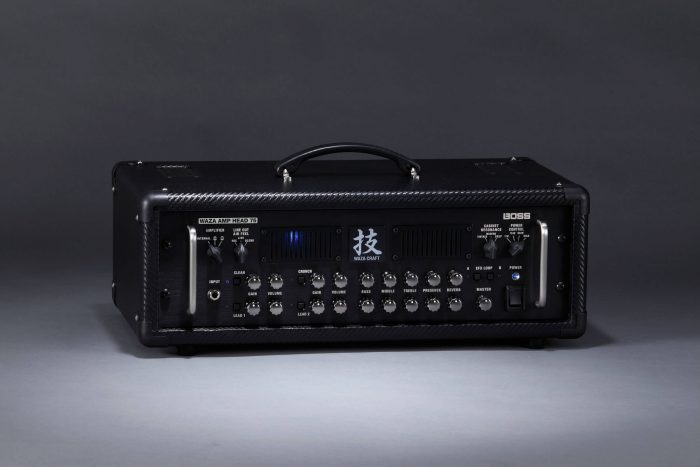 Driven by the proprietary Tube Logic design approach, the stage-ready 75-watt amp head is optimized for high-gain tone, and delivers BOSS's version of the legendary "brown sound" sought after by rock guitarists for decades. The amp also includes four independent channels, custom voicing options via BOSS Tone Capsules, and many other advanced features for gigging players.

In 2016, BOSS introduced the 150-watt Waza Amp Head, the very first BOSS guitar amplifier, which received wide acclaim for its authentic high-gain sound, responsive feel, and concert-level power output. The Waza Amp Head 75 offers the same sound, feature set, and maintenance-free design as the top-of-the-line model, but with 75 watts of power and a more affordable price.

A key feature of the Waza amps is that they can be instantly re-voiced with a three-way Amplifier selector. The Internal position provides the classic vintage tone of the original stack-style amp from the 1960s, while the A position engages a built-in Tone Capsule that delivers the famed brown sound, fine-tuned in precise detail by the BOSS engineering team. The B position accesses an optional user-installable Tone Capsule, such as the Steve Vai Legacy Tone Capsule model.

The Waza Amp Head 75 is equipped with four channels: Clean, Crunch, Lead 1, and Lead 2. Clean and Crunch share one four-band EQ, while Lead 1 and Lead 2 share a second four-band EQ. The amp also includes a variable power control with Max, 50 W, 15 W, and 1 W settings, enabling users to get the satisfying feel and response of a cranked-up tube amp, but at a volume to suit any playing situation.

The amp's rear panel includes two effects loops with series/parallel operation, XLR and 1/4-inch line outputs, and USB for direct recording to a computer. The line and USB outputs feature mic'd cabinet voicing that can be adjusted with the front-panel Air Feel selector. There's also a jack for connecting an included foot controller for channel switching and effects loop selection, and a MIDI input for controlling the amp via a MIDI switching device.

The Waza amp series also includes companion Waza Amp Cabinet 412 and Cabinet 212 speaker cabinet models, which provide optimized performance with custom 12-inch speakers and heavy-duty plywood construction. Via the three-way Cabinet Resonance selector on a Waza amp, users adjust the cabinet response to suit various playing applications.
More information: BOSS