Audified has launched a limited time Boutique Studio Bundle, a collection of four plugins that deliver pleasant vintage warmth and amazing presence to your vocals, instruments and entire mixes.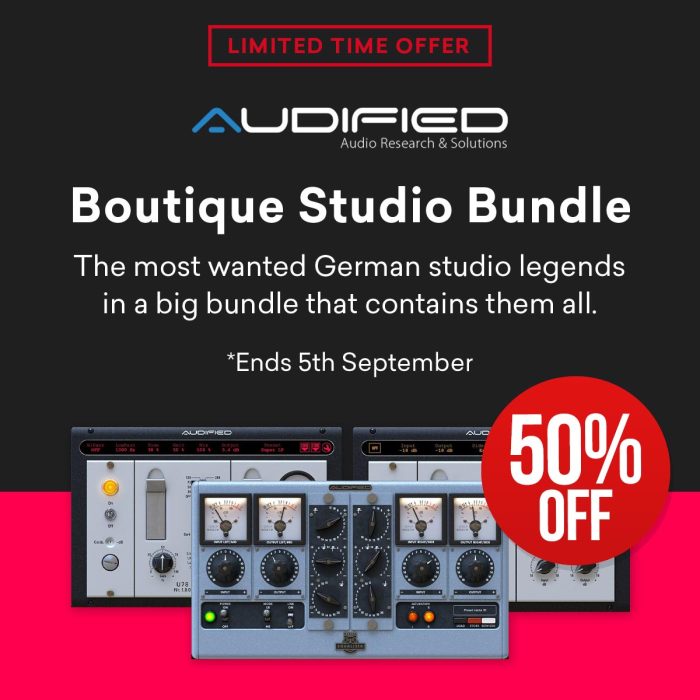 U73b Compressor ($149 USD)
Faithful and unique emulation of an old German broadcast compressor/limiter unit U73b. The device was often used for mastering between 1960 and 1980.

It is an all tube vari-mu compressor/limiter with adjustable release time option. We kept the circuitry exactly as it was originally designed.
U78 Saturator ($149 USD)
We removed our award-winning U73b Compressor plug-in's compression function. Filters were added, together with the tone control, and, finally, a strong gain control completed the U78 Saturator.

We kept the heart and soul of the machine to deliver the beautifully musical tube sound. The result is a saturator that sounds like no other.
RZ062 Equalizers ($199 USD)
The exact models of Klangfilm RZ062 vintage EQ modules. Two plug-ins for music production and mastering. The RZ062a and RZ062b modules differ in the function of the central knob. In the A-module, the middle handle rotates the entire frequency curve around the central point (650 Hz). When the bass frequencies are raised, the trebles are simultaneously lowered.

The b-module is even more complicated. Its presence knob lets you choose one of four frequencies (1.4, 2, 2.8 and 4 kHz) and adjust their gain at the same time. This parameter helps your sonic material to cut through very gently and sensitively.
The Boutique Studio Bundle is on sale at Plugin Boutique for £199.95 GBP / $249 USD until September 5th, 2019.
More information: Audified