Boz Digital Labs is celebrating Dynamic Range Day with a 70% discount on its brickwall limited effect plugin.
The Wall is the simplest way to add transparent limiting to your tracks or buses. With its simplified design, you can dial in your limiting to have whatever flavor you need, without needing to mess with a bunch of controls that don't make sense.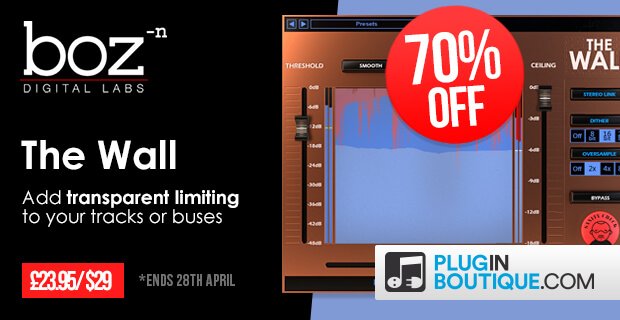 There are many Limiters out there, and one of the things that we learned while making this is that a good limiting algorithm is complicated. There are tons of steps involved in transparently limiting music and most of the parameters are completely non-intuitive. When I'm mastering my music, I don't want to think about release and attack times, lookahead times, window shapes, multiband crossover frequencies, etc. but I want to dial in the limiter to match the music I'm sending it.

So we took over 30 parameters and combined them into a very simple and intuitive "Flavor" control. It really couldn't be easier to use. You set your level, then adjust the flavor until it sounds good with your song. And if that's not enough, The Wall comes with 3 completely different limiting algorithms that you can switch through very quickly. It's just so easy to use.
The Wall (VST/AU/RTAS/AAX) is on sale at 70% off at Boz Digital Labs and distributor Plugin Boutique until April 28th.