Brainworx has announced bx_dynEQ V2, the upcoming update to its dyamic equalizer effect plug-in for Windows and Mac.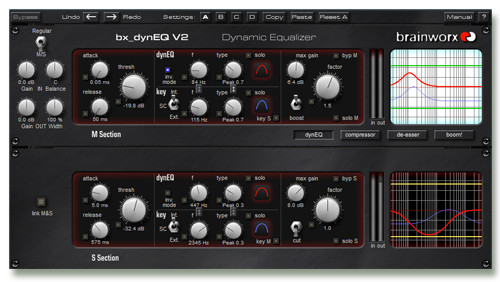 External sidechain(!), new inverse mode & new look. bx_dynEQ V2 is the IMPROVED further development of the original dynamic M/S EQ by Brainworx. Of course bx_dynEQ V2 also still contains a "regular" stereo and mono version.

Affordable updates will be available for V1 users and bx_bundle customers.

The new INVERSE MODE (indicated by the white EQ panel, see pic above) will allow for unique and fresh sounds.

bx_dynEQ V2 is your swiss army knife of audio… De-essing, compression, filtering and enhancing in mono, stereo and M/S! Boost high frequencies in snare- and tom-sounds without boosting hi-hat crosstalk…!
bx_dynEQ V2 for Windows and Mac (VST/AU/RTAS/TDM/VENUE) is scheduled for release Mid March. Demos and offers will be available next week.
More information: Brainworx