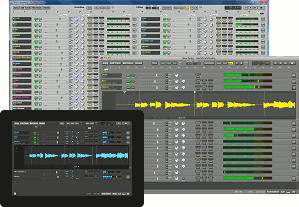 Bremmers Audio Design has released version 7.5 of its MultitrackStudio audio/MIDI multitrack recording software for Windows and Mac.
MultitrackStudio is a virtual multitrack studio. You can record and play audio and MIDI tracks, edit them, and mixdown to stereo. The straightforward and uncluttered user-interface has been designed with tape-based recording in mind. Mixer sections are oriented horizontally (as opposed to the more familiar vertical layout), allowing them to include an editor as well. The editing tools are aimed at correcting mistakes. MIDI tracks have been made to look like audio tracks as much as possible.
Changes in MultitrackStudio v7.5
MultitrackStudio Remote for iPad — The new MultitrackStudio Remote app for iPad turns your iPad into a powerful remote control for MultitrackStudio:

Control the transport, including VariSpeed, markers and cycling.
Add and control tracks, groups, effect returns (up to 3) and the master section.
Add and control effects and MIDI instruments.
Toggle the Monitor / Punch / Sound On Sound buttons.
Control the click track and the MIDI Keyboard Splitter.

More effect slots — Mixer sections can now optionally have 6 effect slots rather than just 3. There's an 'Effect Slots' setting the the Preferences window. 6 slot songs are fully compatible with 3-slot MultitrackStudio versions, old or new. The extra effects will appear in a Multi Effect.
Half Solo — Double clicking a Solo button invokes 'half solo': other tracks will be attenuated by 12dB rather than muted fully. The Solo button reads 'H' in half solo mode.
VST/AU effect midi output recording — Some plugins generate MIDI data ("MIDI Guitar" for example). This MIDI output is now merged with the data coming from MIDI input devices, so you can record it to a MIDI track.
Other

Sampler supports Modulation controller (#1).
VSTi plugins: drum editor can use text file with instrument names.
VST/AU output mixer has level meters.
VST/AU output mixer supports multiple solo and half solo.
Level meter of recording audio track shows peak level since transport start (dimmed segment).
Mac version takes advantage of Retina displays.
Practice Mode now works with speed-only VariSpeed mode (Pro Plus edition).
Support for Mackie Control and HUI control surface level meters and transport counter.
Improved pen (stylus) support: easier scrolling and optional onscreen keyboards.
(Mac) Improved VST/AU compatibility.
(Windows) Improved MIDI recording timing accuracy.
Compatible with OS X 10.9 (Mavericks) and Windows 8.1.
Various other improvements and bug fixes.
MultitrackStudio is available to purchase for $69 USD (Professional) / $119 USD (Pro Plus). The update is free for users who purchased MultitrackStudio after September 1st, 2012. Older versions can be upgraded for $23 USD (Professional) / $39 USD (Pro Plus). The MultitrackStudio Remote app is a free download at the App Store.
More information: Bremmers Audio Design