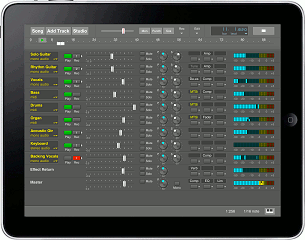 Bremmers Audio Design has released version 1.7 of MultitrackStudio for iPad, an audio/MIDI multitrack recording app for iOS.
It comes with many high quality audio effects including a guitar amp simulator. Both audio and MIDI tracks can be edited. MIDI editing features include pianoroll, drum and score editors.

The straightforward user-interface has been designed with tape-based recording in mind. It's easy to use yet powerful.
Changes in MultitrackStudio for iPad v1.7
'Export MIDI Tracks' and 'Export Mix' can export via email (as .mid and .m4a file respectively).
Other apps can open audio and MIDI files in MultitrackStudio via 'open in'. Works with the Mail app for example.
Note velocity editor now has 'draw' mode.
Score editor: MORE button menu now features all options from the missing SEL button menu (Select Right etc.).
GM SoundFonts can be used as default MIDI instrument (in Preferences pane).
'Ultra Low' option added to Audio Latency box (in Devices pane). It equals 128 frames buffer size.
Extension Pack now features effect and instrument user presets.
Fixed: swiping with two fingers over empty space below tracks could cause app to hang.
Fixed: app crashed on importing extremely large files via AudioShare.
The app is available for purchase for $29.99 USD.
More information: Bremmers Audio Design / MultitrackStudio for iPad