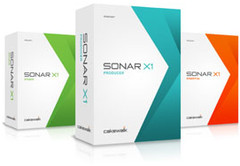 Cakewalk has announced the availability of a fully functional 30 day trial version of SONAR X1, the music production software for Windows.
SONAR X1 is the most popular version of SONAR ever! Now you can download the free trial version of SONAR X1 Producer. We want every musician to experience the new Skylight Interface, which completely redefines workflow and allows you to focus on what's most important – creating music.

The SONAR X1 trial is a fully functional version of SONAR X1 providing the full capability of the award winning SONAR X1 Producer edition including the critically acclaimed Pro Channel console strip. The Pro Channel which provides two types of legendary compression, musical equalization, tube saturation, and the most flexible routing options found in any DAW console strip, are just a few of SONAR X1 Producer exclusives ready to experience in the trial.

What does a fully functional SONAR X1 trial version allow you to do? Well, just about everything including the ability to save projects! There is nothing more frustrating than to create a master piece in a 'trial version' or limited software demo and not be allowed to save your creation. The SONAR X1 trial provides you with the complete SONAR experience minus a few synths, processors, and many of the gigabytes of content that ships with SONAR X1. It's a trial after all. Other superb plug-ins included in the trial are the V-64 Vocal Strip, PX-64 Percussion Strip, and Rapture LE.

The SONAR X1 Trial is a fully functioning version of SONAR X1 that will work for up to 30 days if registered.
More information: Cakewalk