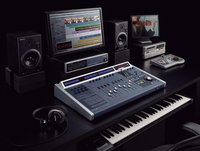 Cakewalk has announced the SONAR V-Studio, the first and flagship product in the next generation V-Studio line of Cakewalk branded hardware and software solutions.
Roland pioneered the concept of combining hard disk recording with an ergonomic control surface. Now, a new generation of V-Studio builds on its legacy in new and innovative ways—combining Roland's renowned hardware expertise with the power and flexibility of Cakewalk's SONAR Producer DAW. SONAR V-Studio 700 addresses the gap between under-powered "budget" solutions and over-priced competitive solutions by offering a compelling, feature-rich music production system that is accessible to a broad range of users. And beyond that, the forward thinking design of SONAR V-Studio 700 addresses the needs of post production professionals by incorporating video and image hardware control functionality.
SONAR V-Studio features
VS-700C V-Studio Console

Extensive control of editing and mixing in SONAR
2×13 LCD Display
Per-channel LED Meters
EQ/Send/ACT Section
20 Rotary Encoders/Switches
70+ Lighted Buttons
Full Transport Control
Jog/Shuttle/Cursor
Seven segment time display
Audio Monitor Controls
Dual Headphone Output
T-Bar, Surround Joystick
DV-7 / V-LINK Compatible
9 Motorized Touch Sensitive Faders

VS-700R V-Studio I/O

21/30 (19/24 simultaneous) audio interface including mic/hi-z input and dual headphone outs on the console
8 TRS/XLR inputs with phantom power
Superior 24-bit/192 kHz A/D converters
8 digitally controlled mic preamps
High quality input DSP including Phase, Pad, Low-cut, EQ, and Compressor
14 analog outputs
ADAT I/O
Digital I/O (AES/EBU, Coaxial)
Easy USB 2.0 connection
MIDI In/Out and Wordclock Sync
Increase I/O capability to 41/56 (37/48 simultaneous) with additional VS-700R I/O unit (available separately)

Roland Fantom VS Synthesizer

Integrated Roland Fantom VS hardware synthesizer
Stocked with over 1,400 patches from world renowned Fantom Synth
Hardware synth offers low latency and low-CPU performance
VSTi plug-in, synth editor, and routing within SONAR for seamless integration of Fantom VS into your creative workflow
Expandable via SuperNATURAL expansion board (ARX) slot found in VS-700R V-Studio I/O
Double synth capability with additional VS-700R V-Studio I/O (available separately)

SONAR 8 Producer

Complete solution – creation to delivery
Tight integration with V-Studio hardware
Best audio quality in industry – 64-bit end-to-end
Inspiring tools for creative production
Fast and accurate audio & MIDI editing
Powerful vocal processing with V-Vocal
Deep levels of mix, edit, and instrument control through ACT
Comprehensive mixing environment
Unlimited tracks, inserts, effects, busses
High track low latency performance
49 effects/15 instruments including Rapture & Dimension Pro
Linear phase mastering plug-ins
Flexible import/export for collaboration with other studios
The SONAR V-Studio 700 should be shipping in January 2009.
Visit the SONAR V-Studio website for more information.