Cakewalk has released the Foxboro update for its SONAR music production software.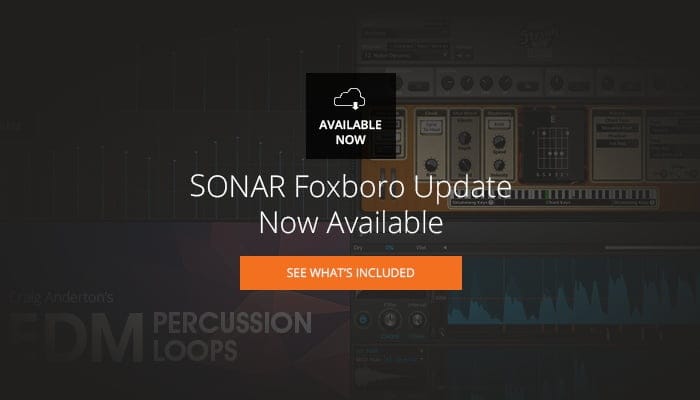 The SONAR "Foxboro" update continues to make improvements in core SONAR functionality, as well as add enhancements to the critically-acclaimed Cakewalk Drum Replacer. "Foxboro" also includes Strum Session 2 and a new EDM Percussion Loops Library from Craig Anderton.

And of course, we couldn't release Foxboro without poking a little fun at the recent New England Patriots controversy with our own version of Deflate Gate.
Changes in SONAR Foxboro
Plug-In Upsampling for Better Audio: Processing or generating audio from virtual instruments at high sample rates can make an audible improvement by eliminating foldover distortion—but the higher sampling rate taxes your CPU. This exclusive Cakewalk feature gives the benefits of processing at higher sample rates in a standard 44.1 or 48 kHz project.
A|A|S Strum Session 2 SONAR Edition: This substantial upgrade from Strum Acoustic Session 1.0 features a collection of acoustic and electric guitars, and offers many of the enhancements in the full version of Strum GS-2. Additional features include a new electric guitar strumming engine, streamlined interface, revised string module, new loop mode, new compressor and EQ modules, and much more.
Cakewalk Drum Replacer Enhancements: Multiple new features include FLAC file support, extended MIDI note range options, user markers with adjustable position and velocity, sample playback offset, "filter off" mode so all frequencies are eligible for hit detection, and persistent data caching to speed up load times (also, re-analysis is no longer require after slip-edits), and additional optimizations.
EDM Percussion Loop Library: Introducing Craig Anderton's EDM Percussion Library, with 66 unique loops (tambourines, electronic-sounding percussion, and "electro" percussion—132 loops total, 102 MB) in both REX (.rx2) and Groove Clip/Acidized WAV format. Dress up your rhythm tracks for almost any type of music, not just EDM, with these stereo, 24-bit, expertly crafted loops.
Deflate Gate FX Chain: No need for controversy here, because the new Deflate Gate FX Chain is perfectly legal to use in any production. We wondered what it would sound like if you were letting the air out of a track or loop—and Craig Anderton tried to recreate it. It's not your normal processor, so make sure you read the documentation. #FreeTomBrady.
Workflow enhancements and fixes: This update includes fixes to the Cakewalk Drum Replacer (in addition to the enhancements mentioned above) along with improvements in VST third-party compatibility, ARA-based operations, Piano Roll View, and more—as well as additional support for the new Command Center 1.1 update coming in July.
Esi MIDIMATE II review: When you need an extra MIDI port, this ingenious (and relatively inexpensive) USB 2.0 MIDI cable has two connectors that can be dual MIDI ins, dual MIDI outs, or MIDI in and out.
SONAR is available for purchase starting at $49 USD or $4.99 USD/month.
More information: Cakewalk