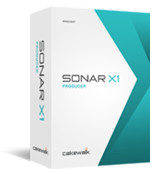 Cakewalk has announced the release of SONAR X1b, an update for the digital audio workstation for Windows.
The X1b update includes new features, enhancements, and fixes that round off the already exceptional new SONAR X1 digital audio workstation. Since SONAR X1's release in December, we have been monitoring user response and feedback very closely in order to provide swift improvements where possible. X1b also offers additional support for the V-Studio 700 and V-Studio 20 Control Surfaces.

Plus: When you upgrade to SONAR X1 you also get two FREE Digital Sound Factory sound packs: Rapture Compilation and Sound Center Compilation ($50 value). These will automatically be added to your SONAR X1 download. Special offer ends March 31st.
SONAR X1b is now available as a free download to all registered SONAR X1 customers.
More information: Cakewalk