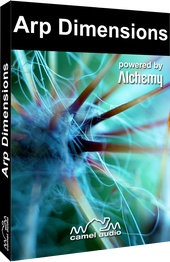 Camel Audio has announced the release of Arp Dimensions, a Alchemy Player powered instrument including 150 presets for flexible arpeggiated sounds.
Arp Dimensions is a bubbling world of cascading melodies, pulsating soundscapes and layered riffs. No static arpeggios here – each preset incorporates extensive programming options to offer a seamless mini-world of evolving possibilities. This library is perfect for genres as diverse as electronica, dance and ambient, all locked in perfect sync to the tempo of your track. Many patches have a dedicated knob for switching between multiple arpeggiated patterns, so it's easy to make them fit your music.

Featuring hypnotic bass riffs, sci-fi bleeps and swooping synth motifs, ethnic percussion workouts, heavenly bells, scraped strings, pulsing voices, calming mantras, plus darting and stuttering chaotica. From classic simplicity to wild note excesses, from gently swelling sparseness to complex multi-layered riffs, Arp Dimensions has it all.
Arp Dimensions is available to purchase for PC and Mac (Standalone/VST/AU) for $59 USD / 49 EUR / £39 GBP.
Camel Audio has also announced the release of a free bonus library of 50 presets for all Alchemy Player and Alchemy users, bringing the total number of sounds included with Alchemy Player to 200.
The sounds range from ambient soundscapes to wobble basses and include some sounds from our competition winners as well as from our established team.
Visit Camel Audio for more information.