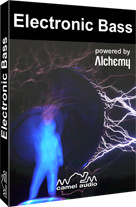 Camel Audio has announced the release of Electronic Bass, a new Alchemy Sound Library.
Electronic Bass is a voyage in to the depths, offering cutting precision and rock-solid foundations. From rich and powerful to clean and deep, thin and wiry to the thickest layers imaginable, this collection covers everything from hard techno bass that can slice through a mix to smooth, throbbing sub-basses, phat synthesised tones, filthy electro, deep dubstep wobble basses, short attacking stabs, speaker-shredding filter sweeps, deep hypnotic arpeggios and bouncing, sequenced bass loops.

Suitable for a wide range of genres from dubstep to techno, Electronic Bass also introduces over fifty new sampled bass sounds, and has been carefully sorted in to folder categories so you can quickly find the most suitable candidate for your project. Electronic Bass was created by our talented team of sound designers from around the globe.
Electronic Bass features
150 bass sounds (1200 variations).
40 Classic, 23 Distorted, 17 Layered, 17 Sweep, 16 Short, 14 Wobble, 8 Sub), 8 Arps, 7 Loops.
Suitable for Electronica, Techno, Hard Dance, Drum and Bass, Dubstep, and Breakbeat genres.
Sound Designers: Andre Ettema, Nick Moritz, Himalaya, Ian Boddy, Bryan Lee, biomechanoid, patchen preston, Yuroun.
Electronic Bass is available to purchase for Windows and Mac (standalone instrument when used with the included Alchemy Player) for $59 USD / 49 EUR / 39 GBP.
Visit Camel Audio for more information.