Camel Audio has announced the release of Himalaya: Pads and Viral Outbreak, two sound libraries for Alchemy and Alchemy Player.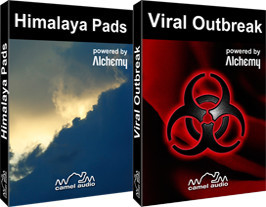 Both will work as standalone instruments when used with the included Alchemy Player and cost just 59USD / 49EUR / 39GBP. Alchemy Sound Libraries offer all the benefits of sample libraries plus you can tweak sounds to fit your music using the perform controls and remix pad.
Himalaya: Pads is awash with warmth, richness, and complex internal movement, with plenty of unexpected twists and turns. Enjoy a host of vintage analogue sounds from smooth and seriously lush strings, via a host of classic filter sweeps, to spiky digital textures, all featuring extensive modulation options plus aftertouch effects. With extensive sonic changes between the remix pad variations, this bank is a real-time delight for the performer, with its dancing harmonics, dramatic pitchbend swoops, rhythmic motifs, evolving jet flanges, and stereo ebbs and flows. This library incorporates 150MB of new samples including human and synthesised choirs, vintage strings, analogue pads and digital noise, all combined with a menagerie of multi-effects.
Viral Outbreak features dancing arpeggios, pop blips, unison leads, ambient drones and washes, shimmering pads, bizarre formant effects and sci-fi soundscapes, suitable for dance, IDM and electronica. This sound library draws on samples of the classic Virus synthesizer, featuring raw saw and pulse waveforms, massive supersaws, phase distortion, FM and classic wavetable sounds. This library draws on 1.7GB of Virus samples, 700MB of which are exclusive to this bank. From phat analogue to wiry digital twangs, warm and powerful to delicate and downright weird, this library has it all.
Visit Camel Audio for more information.