Camel Audio has announced the release of Steamworx for Alchemy Mobile, one of the most popular sound libraries for Camel Audio's Alchemy, now adapted and optimised for Alchemy Mobile.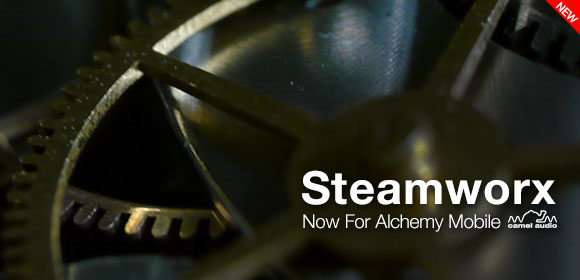 Created by Martin Walker, this 50-preset cinematic netherworld features keyboard instruments made from clocks, drum kits built with steam-powered machines, fog-shrouded soundscapes and gothic choirs.

With intricate contraptions, grunge-laden grooves, multi-layered arpeggios and hand-crafted percussion that ooze character and round-robin realism, you will find moods suited to epic soundtrack, delicate ambient, sci-fi, industrial and the supernatural.

Also included are three demo projects, to remix or use as the basis for new songs.
Steamworx for Alchemy Mobile is available as an in-app purchase for $4.99 USD/3.99 EUR/£2.99 GBP.
Visit Camel Audio for more information.