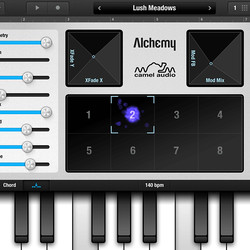 Camel Audio has released version 2.2.12 of its Alchemy Mobile and Alchemy Mobile Pro synthesizer apps for iOS.
v2.2.12 contains a number of improvements including:

Fixed performance issue on older devices
Fixed email sharing issue on 64bit devices
Various additional improvements.

Additionally, the recently released v2.2.09 update included the following improvements to design and stability:

Easier-to-use layout for Inter-App Audio panel
Improved Audiobus stability
Clearer Sound Library information pages with new media player
2 or more new remixable demo tracks for each Sound Library.

Users can hear the new demo tracks by selecting an unpurchased library in the Libraries list. Alternatively, to obtain the new tracks for remixing, current owners of Sound Libraries can swipe left on a library in the Libraries list to delete an existing library, drag down to refresh the list, then reinstall the latest version of the library for free.
Alchemy Mobile users can download the v2.2.12 update from the App Store, free of charge.
Visit Camel Audio for more information.