Leapwing Audio has announced the release of a new audio plugin that is designed to capture the signature sound of one of the most iconic music producer-engineers.
Developed in collaboration with Al Schmitt, the plugin features 6 distinct profiles: vocal, piano, bass, brass, strings, and mix (bus). Each of the profiles has different sonic characteristics and parameters based on Al's workflow and perception of each instrument.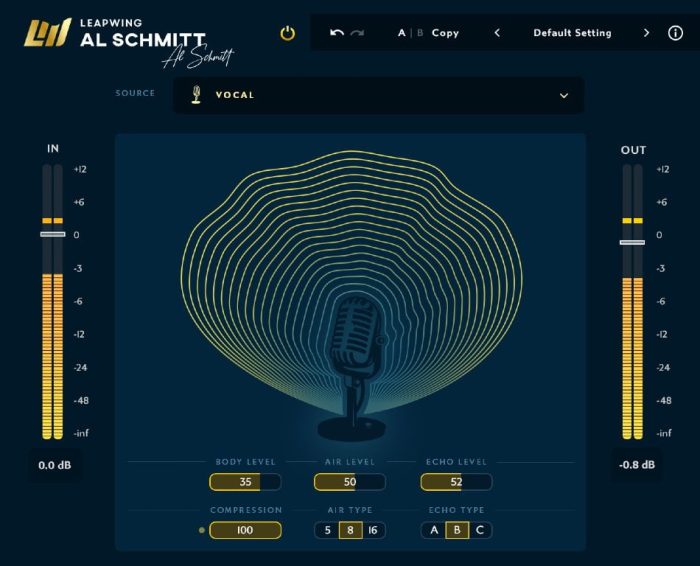 "When Al said he wanted to create a plugin with us, we couldn't have been more excited!", says Emiliano Caballero, co-founder of Leapwing. "We set out to evaluate and understand all the intricacies that make Al and his sound so unique. The Leapwing team analyzed Al's workflow, gear and processes of the last decades, from subtle harmonic characteristics to echos, compression and EQ. This then led us to create distinctive features that define his sound."
Leapwing Al Schmitt features
6 unique profiles to process vocal, piano, bass, brass, strings and mix bus. Honed by Al over the years, they represent how he approaches music.
Each profile has a set of parameters controlling harmonics, EQs, compression and echos.
Instrument profiles are low latency, making it perfectly suitable to use for recording.
All algorithms are meticulously tuned with the highest quality achievable and a pristine sound.
Simple yet Beautiful Design: Modern resizable Retina interface with a unique design for an optimal workflow.
The plugin is on sale at Plugin Boutique at an introductory price of 119 EUR until March 10th, 2021 (regular 149 EUR). It comes in VST/VST3, AU and AAX formats.
More information: Leapwing Audio