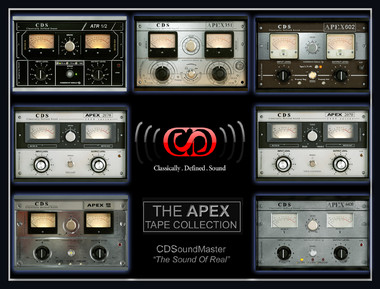 CD Sound Master has announced the release of its APEX Tape Collection suite of audio software plug-ins for Windows and Mac.
These audio plug-ins allow the user to transform their digital audio workstation into a classic vintage studio with the lineage of the "APEX" tape machine. Included are classic 2" multi-track reel to reels, vintage tube classics, and everything in between.

These Audio Plug-Ins are created with ultra-realistic, 3D Rendered Graphical User Interfaces, or GUI's, that allow the user to enjoy the look and feel of the original consoles they are using.

"Our vintage tape machines look, sound, and operate like the real analog reel to reels they represent" says Michael Angel, CDSoundMaster, "… because they are created by recording through the actual original machines."

CDS has worked with a process called "V.V.K.T.", or Vectorial Volterra Kernels Technology for several years now, and when used with an excellence in procedure, signal integrity, and editing, it provides the user with a nearly identical result to using the original devices.
The APEX Tape Collection for Windows and Mac is available to purchase for $149 USD. A free, fully functional APEX 440B Program from the collection is available to download from the product page.
More information: CD Sound Master / APEX Tape Collection