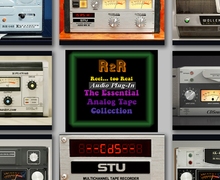 CDSoundMaster has announced the release of R2R – The Essential Analog Tape Collection, and Tape Booster Plus audio effect plug-ins for Windows.
These new Stand-Alone Audio Plug-Ins feature the best programs from the library in stunning 3D GUI form, replicating the original classic tape machines for use in any PC host DAW that supports VST technology. R2R includes multiple tape media specific to each machine, along with slow and fast tape speeds for maximum flexibility.

R2R, or Reel Too Real, contains a virtual living museum of reel to reel analog tape recorders and includes everything from early tube designs and popular consumer favorites to some of the finest machines ever made.

Tape Booster Plus has been created to compliment R2R by adding authentic harmonic distortion to add the effect of higher gain input levels to your choice of R2R programs.

While R2R recreates the actual frequency spectrum, dynamic range, and harmonic non-linearities of the specific analog tape machines, Tape Booster Plus further increases the perceived volume using realistic tape saturation gain.
R2R and Tape Booster Plus features
V.V.K.T. Vectorial Volterra Kernels Technology.
Frequency, Dynamics, and Harmonics of specific classic tape machines.
High gain natural tape saturation.
3D rendered graphical user interfaces for each tape machine.
Input and Drive controls.
Vintage VU metering.
Seven classic reel to reel machines.
Multiple tape media.
Multiple tape speeds.
R2R and Tape Booster Plus are available to purchase as VST plug-ins for Windows (Mac coming soon). R2R is $149 USD, Tape Booster Plus is $49 USD. A bundle of both is available for $179 USD.
More information: CDSoundMaster / R2R / Tape Booster Plus