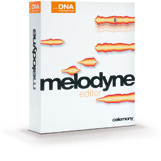 Celemony has updated its Melodyne product line to version 1.3.
With Version 1.3, Melodyne is more reliable and efficient to work with than ever. Continuous lines representing the selected time grid provide for greater clarity in the editing pane, thereby making modifying the timing of notes easier. A double click now quantizes notes to the time grid selected by the user, making it possible to shape the rhythm of the material more swiftly and accurately. In the stand-alone version of Melodyne, a new option is now available that saves a copy of the audio files involved when you are saving MPD files. This simplifies the handling of projects. Version 1.3 is also compatible with Mac OS X 10.7 Lion and the corresponding Lion versions of leading DAWs.
Changes in Melodyne v1.3
[Stand-Alone] Consolidate Audio Files when saving MPDs – When saving a Melodyne Project Document (MPD) all necessary audio files can optionally be saved along in a subfolder. These files are copies, while the original ones remain untouched at their original location. To activate this function check Consolidate Audio Files in the Save dialog.
Vertical grid lines – Depending on the user settings in the time ruler (1/8, 1/16, etc.) you will see respective lines in the Blob background, which allow for easier orientation when moving or stretching Blobs.
Double-click quantization – When you double-click a blob with the Time Tool, the quantization reflects the set grid now.
[Stand-Alone] Re-detect Tempo – With the new Re-detect Tempo option in the Tempo dialog you can go back to the original file tempo at any time – regardless of how many other edits you have done in the meantime.
Installer size – The installers for Mac and Windows are smaller in file size now. In Version 1.2.1 they used to install videos and audio arrangements along with the program. These additional files are not included anymore and can now be accessed online. To do so, follow the links in the Welcome splash screen (which can also be accessed from the Help menu).
The Melodyne editor, assistant and essential update is now available for existing users, free of charge.
More information: Celemony