AudioKit core-team member Cem Olcay has released ScaleBud, an AUv3 MIDI plugin and standalone app for iPhone and iPad.
ScaleBud is a music theory tool for composers, artists and learners, allowing you to create chords and stay in scale. It features more than 40 of the most popular scales.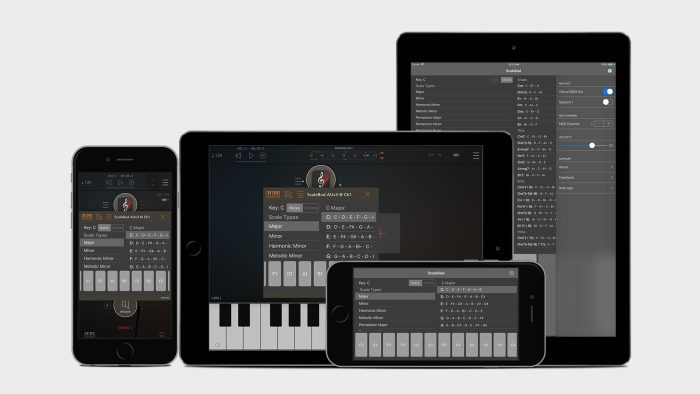 It has a very simple, single-view interface that you can choose the scale and key you want to work as well as note or chord mode selector on the left side. Right side lists the scale notes or chords you want to work with. In note mode, you can fastly jump between notes in the scale by selecting them from the list. In chord mode, you can see the triad, 7th, 9th, 11th or 13th chords for each note in the scale. You can jump between them quickly as well, by pressing the chord you want to play from keyboard. Also, in chord mode, you can set the octave you want to play for the chords from left side of the keyboard.

ScaleBud comes with an AUv3 MIDI plugin and standalone versions. You can directly control your iOS, Mac or PC audio apps with CoreMIDI. Just open the settings menu and select the MIDI Out you want to send MIDI to.

ScaleBud also supports Audiobus MIDI Sending and Filtering. You can send MIDI from Audiobus 3 app just like regular CoreMIDI workflow. Also, in Audiobus MIDI Filter mode, you can feed MIDI Input data from your hardware or MIDI app, and ScaleBud filters out the off-scale notes in note mode, or plays the corresponding chord, if any available, for each note, like a chorder, in chord mode.
ScaleBud is available for purchase for $4.99 USD. Make sure to check Cem's KeyBud, FretBud, ChordBud and ArpBud app as well.
More information: Cem Olcay