Cescato Musiktechnologie has released v2.50 Release Candidate 4 of Trans Computer Maschine, a free synthesizer instrument for Windows.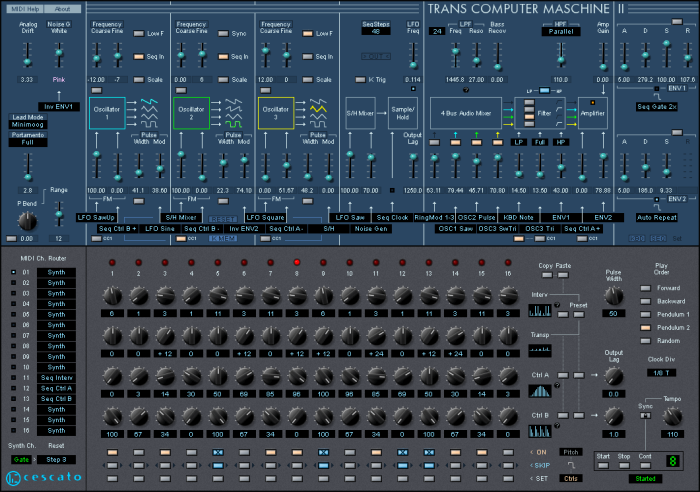 Trans Computer Maschine is a Semi-modular Vintage Lead Synthesizer + Pattern Sequencer, firstly modelled after two legendary synths and a custom analogue sequencer from Germany.
Changes in Trans Computer Maschine v2.50
Added 'KBD' and 'SEQ' set buttons to speed up some basic routings.
Added Oscillators MIDI input 'RESET'.
Added Sequencer 'Clock' indicator in 'Synth Ch.' display for 'Gate' mode.
Added Sequencer internal gating options for 'Pitch' and 'Ctrls' outputs.
Added Sequencer start step setting (Synth Ch. Reset menu).
Added some automatic resets for smoothly 'MIDI Ch. Router' operation.
Added un-synced 'LFO' frequency memory.
Changed 'inverted Envelopes' behaviour to unipolar negative.
Fixed CPU overload and Sequencer jitter while switching patches.
Fixed Envelopes not loading set mode after loading host project.
Fixed 'LFO' triggering noise click after changing patch.
Fixed noise clicks when selecting 'SH Mixer' from Oscillators FM sources.
Fixed occasional 'LFO' resetting at wrong times.
Fixed Oscillator 2 'Sync' not working for triangle shape.
Fixed 'Portamento' and 'Output Lag' controls not matching displayed time.
Fixed Sequencer 'Pulse Width' showing slightly offset values.
Fixed Sequencer reset shift in 'Pendulum' modes.
Fixed signal flow display messed up after loading host project.
Fixed some switches not responding to full MIDI range.
Improved 'Filter' modulation indicators.
Improved filtering link, now featuring bandwidth control.
Improved GUI, disabling filters on inactive 'Audio Mixer' buses.
Improved Sequencer external/human triggering and gating.
Improved Sequencer 'Random' mode algorithm.
Improved Sequencer 'Skip' and 'ON' buttons interaction.
Improved the reading of values by adding dark blue background displays.
Improved value displays, discarding decimals for very large numbers.
Increased 'Portamento' time to 2 seconds, as it is in the ARP 2600.
Removed Patch selection GUI controls (was added in previous beta).
Removed some superfluous parameter automation.
Revised MIDI CC mapping for better compatibility.
Trans Computer Maschine is available as a free download for Windows (VST) in exchange for a Facebook like.
More information: Cescato Musiktechnologie