Channel Robot has announced the release of its Grid Machine Drums collection, featuring the 4 core Grid Machine instruments (Matrix, Chain, Pulse and River) configured for, and including over 1,000 one-shot drum sounds loaded into each instrument.
So all those cute chromatic sequencers we built turn out to be pretty good as drum sequencers too. Each offers you a different route to new rhythmic–stutterifc-mad-lazy-cool noise loops. We loaded each of them with our catalogue of Kicks, Snares, Hats, Toms and Percussion from the Factory Collection, then added over 25 kits from Solid Drums.

Will you get 4-on-the-floor goodness here? Well you *could* if you were either (un)lucky or worked at it, but really we assume you've got that sort of thing covered – this is more about pressing the randomise buttons and getting all new out-there drum patterns, loops and noises, quickly, easily and surprisingly.
The Grid Machine Drums for Kontakt (full version) is on sale at Kontakt Hub for £21.10 GBP (30% off).
In celebration of the release, Channel Robot is giving away another fully featured Grid Machine instrument for free.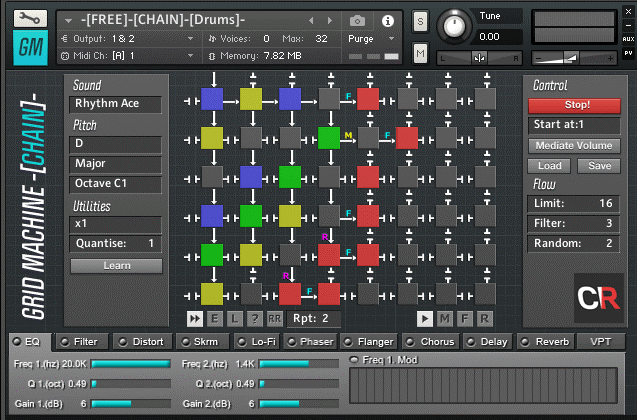 Free Chain Drums features sounds from 10 "classic" drum machine including 808, 909, 606, 626, Korg KR55, Bentley Rhythm Ace, Linn LM-1 etc.
The freebie is available to download for registered users at Channel Robot (registration is free).
More information: Channel Robot / Grid Machine Drums