Chocolate Audio has launched B|BassV, an electric bass instrument for Native Instruments Kontakt.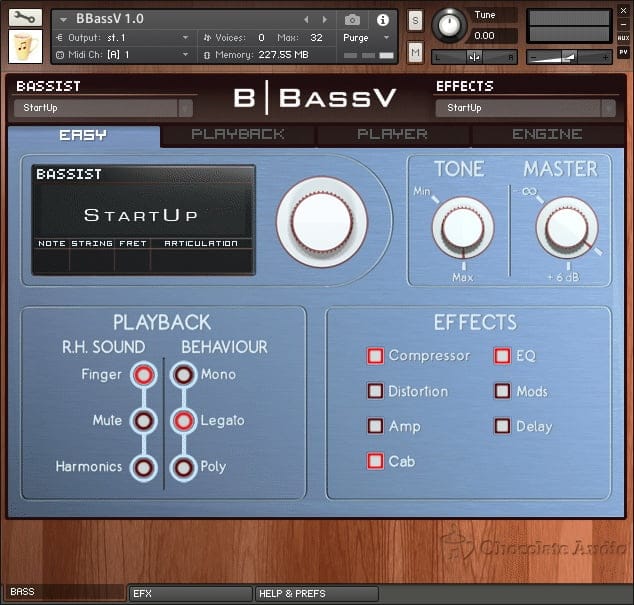 The instrument is the outcome of several years of research and development and it strives to set a new benchmark in terms of playability and tone. A long time was dedicated to achieving the best possible tone by trimming and fine tuning Kontakt's internal effects and by adding 172 custom cabinet + mic impulse responses.

Playability was addressed through the development of custom algorithms to emulate the way a real bass player moves along and across the fretboard. In addition there is an exclusive legato/slide engine which plays realtime legato and slide-to articulations at any BPM, using intuitive keyboard techniques.

Chocolate Audio sampled a Yamaha BB415 5-string electric bass, an instrument well-known by experienced bass players for its character and personality.
B|BassV Electric Bass features
964 MB (lossless compressed) library size, 6517 samples.
Samples are looped after roughly 6 seconds to save on RAM.
4 sustaining dynamic layers, chromatically sampled.
4 round robins for each note/dynamic (2 index + 2 middle finger samples).
all 5 Strings sampled.
8 release trails layers for each note/string.
Fingered, Fingered Mute and Harmonics main articulations.
Sampled with a Millennia DI preamps fed direct into Apogee converters.
Ease of use thanks to custom advanced scripting.
Recorded at 24-bit / 96 kHz, released at 24-bit / 44.1 kHz.
Easy-to-use effects section for extreme sound-mangling.
The library costs $99 USD. An introductory 35% discount is available until October 18th, 2015. Requires full version of Kontakt v5.4.3 or higher.
More information: Chocolate Audio / B|BassV