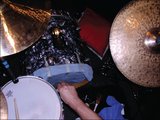 ChocolateAudio has released OldFunk Drum Kit, a sample library aiming to provide you with today's sound of funk drummers from the '60s and '70s.
A lighter version of the Old Funk drum kit was released for VI Magazine readers at the beginning of 2008. The full version of the OldFunk drum kit with 3 more Kicks, 6 more snare sounds, 1 set of damped toms and a set of damped cymbals and ride is now available.
OldFunk Drum Kit features
773 MB — 5 Kick sounds, 10 Snare sounds coming from 3 different Snares, 2 Tom set sounds and a full set of cymbals.
Format: stereo 24 bit / 44.1 KHz – Recorded multimic at 88.2 / 24.
Preamps: Avalon 737, GML, Midas, Focusrite.
Mics: AKG D112, Neumann KM184, Groove Tubes GT61, Neumann M149, AKG C414, Shure SM57, Shure SM58, Beyerdynamic M201TG.
Supported Samplers: Apple EXS24MkII; NI Battery 3; NI Kontakt 3; NI Kontakt 2 (via direct import of NI Battery 3 format); Ableton Sampler and Drum Rack.
OldFunk Drum Kit is available for download for 44 EUR. VI Mag version owners can upgrade for 14 EUR.
Visit ChocolateAudio for more information and audio demos.